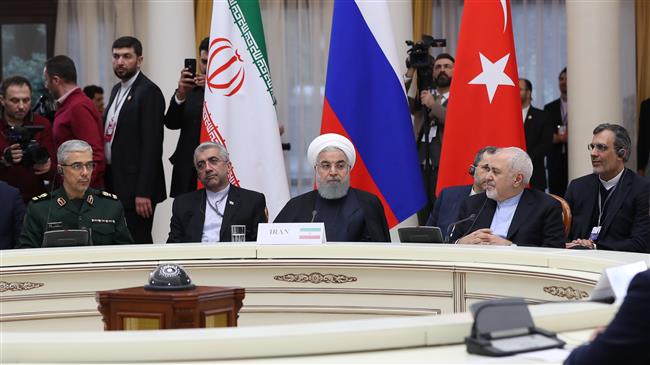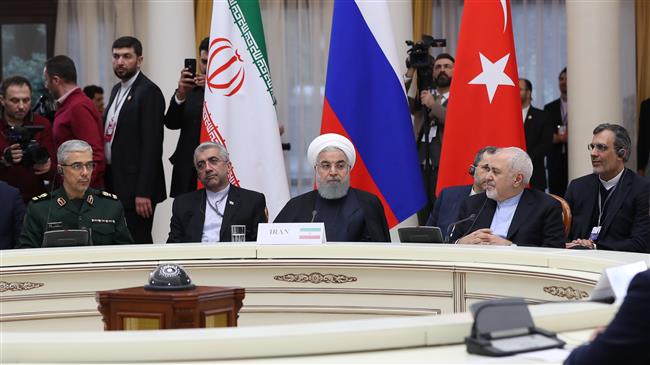 Iranian President Hassan Rouhani says terrorists must not feel safe in Syria or any other part of the world, warning their supporters about playing the card of terrorism to achieve their goals.
"Terrorists must not feel safe in this country or any other part of the world and their supporters should not assume that they can play the terrorism card to their benefit in domestic, regional, or international equations," the Iranian president said.
Rouhani made the remarks at a tripartite meeting, which was also attended by Russian President Vladimir Putin and his Turkish counterpart, Recep Tayyip Erdogan, in Russia's resort city of Sochi on Thursday.
Unfortunately, the US administration is still backing the terrorists based in Iraq and Syria and uses them to further its own interests as it presses ahead with its "illegal activities" in Syrian territory, Rouhani added.
He said "reliable reports" show that the US has assisted the terrorists enlisted with the Takfiri group of Daesh in traveling around in Syria and also helped some of them leave the country for Afghanistan.
Rouhani said the US has established a military presence in Syria without any Damascus permission, breaching all international regulations as well as the territorial integrity and national sovereignty of an independent country, which is a member of the United Nations.
Pointing to an earlier announcement by the US that it would pull its forces out of Syria, Rouhani said Washington has to act on the claim as soon as possible so the Syrian government's sovereignty is restored, as is the case elsewhere in the country, to the areas lying to the east and north of the Euphrates River.
The US says it has begun the process of withdrawing from Syria but Russia cast doubt on the claim Friday, saying it thinks Washington wants to stay in the Arab country.
The Iranian chief executive asserted that intra-Syrian dialog needed to continue without any foreign interference, and Syria's "independence, sovereignty and territorial integrity, and [the principle of] non-interference in the country's domestic affairs should be observed under any circumstances."
The Iranian president, meanwhile, stressed that the international community also had to confront the Israeli regime's arbitrary measures targeting Syria. The regime is also providing assistance to some terror outfits in Syria, he said, adding that Israeli officials themselves had recently owned up to the "heinous act."
The Sochi summit, hosted by Russian President Vladimir Putin, was aimed at solidifying the three countries' cooperation towards returning peace and stability to Syria.