Syria
Terrorists Not Admitting Ceasefire in Eastern Damascus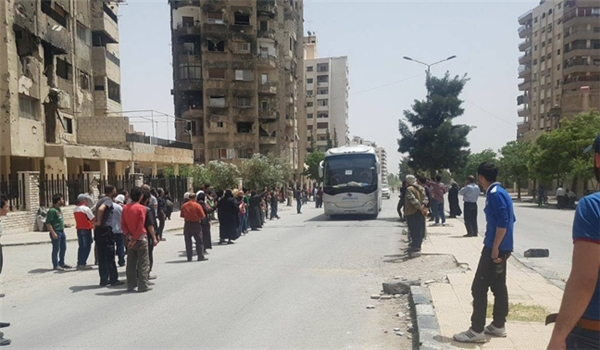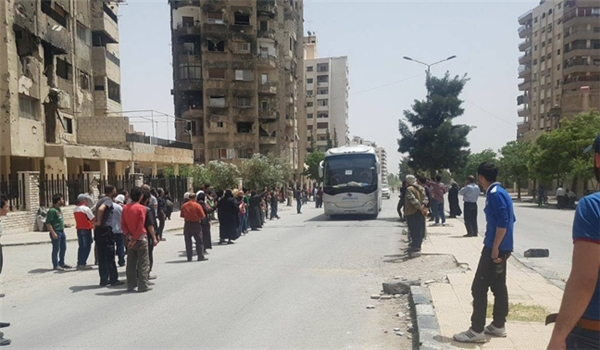 The terrorist groups still defy to abide by the ceasefire with the Syrian army in Eastern Ghouta in Damascus countryside despite declaration of truce in the region.
The terrorists' operations room in Harasta in Eastern Damascus, meantime, announced that it will not remain committed to ceasefire in Eastern Ghouta by any means and will continue its military operations in the surrounding areas of the Vehicle Management center.
This is while a spokesperson of Ahrar al-Sham terrorist group Manzar Fares said no party has held talks with Ahrar al-Sham about ceasefire in Eastern Gouta, stressing that the terrorist groups does not believe in the ceasefire agreement.
In a relevant report earlier, a media source reported that the Syrian government and opposition delegations on Friday agreed on a ceasefire in the rebel-held Eastern Ghouta countryside of the capital Damascus during the Syria talks in Vienna.
Xinhua said that both delegations agreed on the cease-fire that will go into effect at midnight Saturday, thus ending a two-month escalation between the government forces and rebels in the Eastern Ghouta region.
The agreement came as the Syrian government and the opposition wrapped up the two-day UN-mediated Syrian talks in Vienna.
However, there is no immediate comment from Damascus about the cease-fire.
Additionally, both sides agreed on the entry of humanitarian aid into the besieged areas and the exchange of detainees.
The Syrian Observatory for Human Rights also reported the midnight cease-fire in Eastern Ghouta, saying Jeish al-Islam or Islam Army as well as the Faylaq al-Rahman, agreed with the Russians on establishing the cease-fire at midnight Saturday.
The London-based watchdog said the Faylaq al-Rahman stipulated the entry of relief into the besieged rebel-held areas in Eastern Ghouta within 24 hours following the establishment of the cease-fire.
The observatory said the al-Qaeda-linked the Levant Liberation Committee is also covertly included in the deal.
Battles were raging on in Eastern Ghouta over the past two months when the al-Qaeda-linked group and allied militants launched attacks on a key Syrian military base in Harasta in Eastern Ghouta.
According to the Observatory, at least 266 civilians were killed over the past month as a result of the exchange of fire inside Damascus and in Eastern Ghouta, where 400,000 are said to be besieged in the rebel-held region.