Syria
Terrorists Squeezed in 7sq/km Area in Eastern Aleppo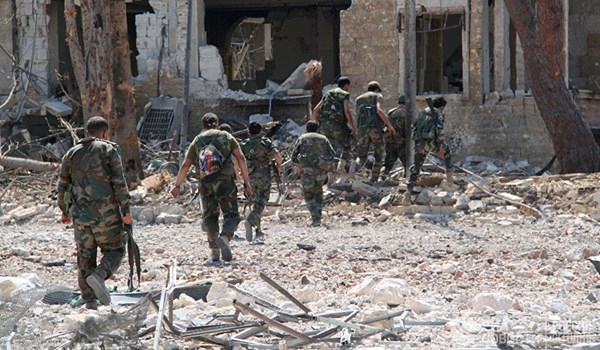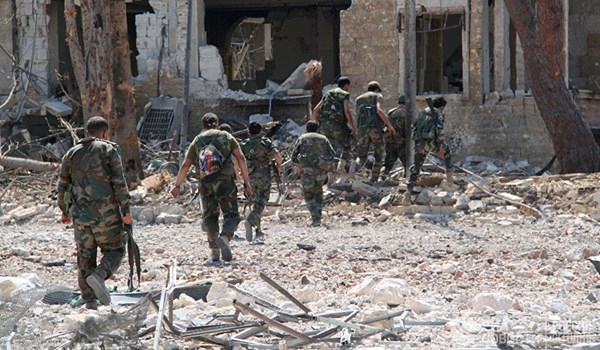 Field sources said the Syrian army and its allies have captured 11sq/km more in Eastern Aleppo in the past 24 hours, cornering the terrorists in a very restricted area.
According to the sources, at present, the militants are squeezed in an area 7sq/km in size in Eastern Aleppo that covers al-Asila, Bustan al-Qasr, al-Kalasa, al-Zabdya, Bab al-Qam, al-Ferdous, Maqale', Karam al-Da'da, Eastern al-Ansari, Western al-Ansari, al-Mashhad, al-Sukri and parts of Sheikh Saeed districts.
The Eastern parts of Sheikh Saeed and the Northern parts of Bab al-Maqam, al-Asila and Bustan al-Qasr are currently the scene of clashes between the army and militants, they added.
Since the start of the massive operations in Eastern Aleppo, the Syrian forces have won control over 56 districts, while they are still advancing in regions still under militants' control.
In the latest developments in Eastern Aleppo, the Syrian army, backed by popular forces, further advanced in the Southern parts of the Citadel of Aleppo after liberating the Old Aleppo quarter and retook control of several other regions.
The Syrian army forces who had seized back Bab al-Nayrab, al-Marja and Sheikh Lutfi districts, made advances in the nearby areas and could purge the terrorists from Karam Humad and al-Boloura districts near the recently-liberated al-Marja district.
The Syrian army and Hezbollah forces also could regain control of the Great Mosque, the Old al-Adli palace and al-Bayaza and al-Qatana regions.
Field sources said that the Syrian army troops and popular forces are in control of at least 85 percent of Eastern Aleppo districts, hitting hard the positions of Jeish al-Fatah terrorists in the few remaining districts still under their control.
The sources said that the army men and popular forces are on the verge of driving terrorist out of the entire neighborhoods of Aleppo city after their victories against militants in the Northeastern districts and recapture of a major part of the districts in the Southeast.