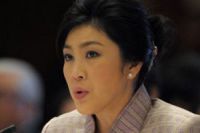 Thailand's army has arrested former Prime Minister Yingluck Shinawatra a day after overthrowing her caretaker government in a coup.
According to AFP, a senior military officer said on Friday "We have detained Yingluck, her sister and brother-in-law."
The officer, who spoke on condition of anonymity said "We will do so for not more than a week, that would be too long. We just need to organize matters in the country first."
He did not give any detail about Yingluck's place of detention; however, media outlets said she was held at an army base in Saraburi province, north of the capital Bangkok.
On Thursday, the army announced that it took control of the government and suspended the constitution in a bid to end months of political turmoil in the country.
In an address to the nation, army chief General Prayuth Chan-ocha said the armed forces have seized power, adding that the act was necessary to restore stability after a prolonged political deadlock.
The army also summoned dozens of leaders and figures from rival political sides on Friday to report to the new junta and then banned some 154 of them from leaving Thailand.