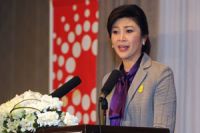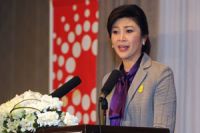 Thailand's Prime Minister Yingluck Shinawatra says the government is ready to delay the February election if the opposition ends its daily protests.
According to Press TV, Yingluck's office said in a statement issued on Saturday that the protesters "must also pledge not to obstruct or boycott voting if the election is rescheduled."
Thai officials say the premier plans to discuss the issue with the Election Commission.
On Friday, the country's Constitutional Court said that the controversial vote scheduled for early February could be legally postponed.
The decision comes after the court held a hearing based on a plea from the Election Commission.
However, the court, said any postponement must have the agreement of the Election Commission and the prime minister.