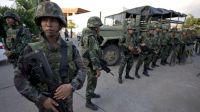 Thailand's military coup leaders say the national constitution has been suspended and a night-time curfew is now in place across the country.
A statement read out on Thailand's national television on Thursday said "In order to run the country smoothly, (coup leaders have) suspended the constitution of 2007, except for the chapter on the monarchy."
The 2007 constitution — drafted by a military-appointed committee following the last coup of September 19, 2006 — has been revoked except for Article 2, which states that Thailand is a democracy under a constitutional monarchy with the king as head of state.
Meanwhile, the army has declared a night-time curfew across all parts of Thailand, banning anyone from leaving their home from 10 pm to 5 am.
National TV and radio stations have also been ordered to broadcast only army-approved material, according to some media reports.
Earlier in the day, the Thai army chief announced in an address to the nation that the armed forces have taken over the government.
General Prayuth Chan-ocha said Thailand's National Peace Keeping Committee needs to prevent violence and restore stability in the country.