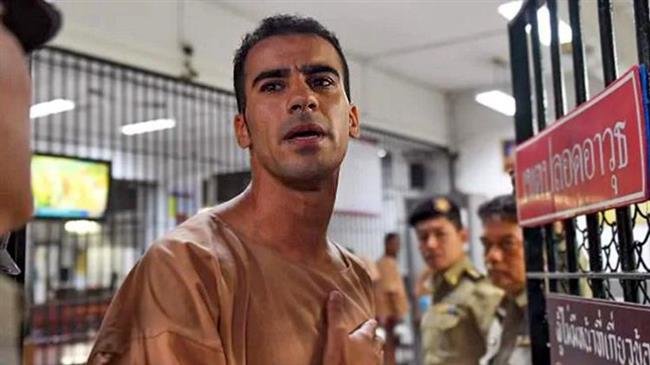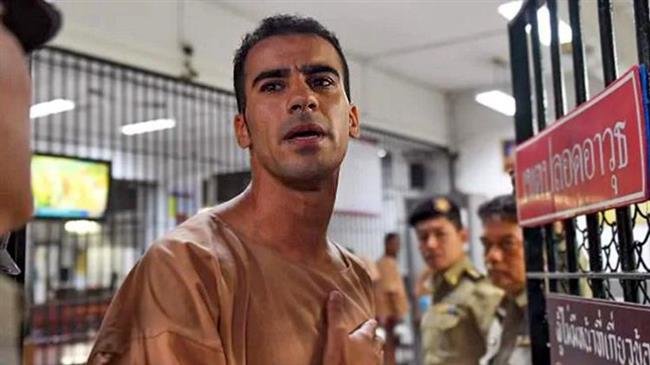 The Thai foreign minister has suggested resolving the case of jailed Bahraini footballer with refugee status in Australia by sending him to a third country or his requested country of asylum instead of extraditing him to Bahrain, where he has to serve a 10-year sentence related to the uprising of 2011 against the ruling Al Khalifah regime.
Don Paramudvinai said he had already proposed the option to both Bahrain and Australia, noting that it would be less complicated and would help resolve the case of Hakeem al-Araibi.
He further noted that his country was willing to help facilitate the talks.
The top Thai diplomat went on to say that it was Australian authorities, who first sent an Interpol "red notice" after he boarded a plane to Bangkok.
He stressed that Araibi's case was now in the judicial process, and a decision was at the discretion of Thai courts.
On Monday, Thailand's Criminal Court agreed to extend the footballer's detention for another 60 days until April 22 to allow his lawyers more time to fight his extradition to Bahrain.
Araibi, a former member of the Bahraini national soccer team, fled the Persian Gulf country in 2014 in the midst of a massive crackdown on dissent and prodemocracy campaigners.
Bahraini soccer player calls on Thai authorities not to send him back to the kingdom, saying he fears for his life.
The 25-year-old has obtained refugee status in Australia, and has criticized the regime in Manama for its violent suppression of peaceful protests in the kingdom.
In 2014, he was sentenced in absentia to 10 years in prison for involvement in an alleged 2014 attack on a police station, a charge he vehemently denies. In 2012, he had already been detained and tortured in prison.
He says he was targeted because he was a Shia and because his brother was a political activist in the Persian Gulf country.
The soccer player is also a major critic of the Asian Football Confederation (AFC) president, Sheikh Salman Al Khalifah, who is a cousin of the Bahraini king. His arrest comes amid a massive campaign by Salman to extend his term as AFC president.
Bahraini court hand down life terms to seven dissidents
Meanwhile, a court in Bahrain has handed down life terms to seven anti-regime protesters as the ruling Al Khalifah regime does not shy away from its heavy clampdown on political dissidents and pro-democracy activists in the tiny Persian Gulf kingdom.
Bahrain's Fourth High Criminal Court sentenced seven defendants to life imprisonment, and two others to ten years in jail.
The tenth convict was given a five-year prison sentence, while the last was sentenced to three years in prison.
Three of the anti-regime activists were ordered to pay 500 dinars ($1,326) each in fines, while another trio was fined 100 dinars ($265) apiece.
The court also revoked the citizenship of eleven of the convicts after finding them guilty of trumped-up charges of "forming a terrorist cell and receiving military training in Iraq."
Thousands of anti-regime protesters have held demonstrations in Bahrain on an almost daily basis ever since a popular uprising began in the country in mid-February 2011.
They are demanding that the Al Khalifah regime relinquish power and allow a just system representing all Bahrainis to be established.
The UN says Bahraini opposition figure Sheikh Ali Salman and two of his colleagues have been given life sentences because of their political viewpoints.
Manama has gone to great lengths to clamp down on any sign of dissent. On March 14, 2011, troops from Saudi Arabia and the United Arab Emirates were deployed to assist Bahrain in its crackdown.
Scores of people have lost their lives and hundreds of others sustained injuries or got arrested as a result of the Al Khalifah regime's crackdown.
On March 5, 2017, Bahrain's parliament approved the trial of civilians at military tribunals in a measure blasted by human rights campaigners as being tantamount to imposition of an undeclared martial law countrywide.
Bahraini monarch King Hamad bin Isa Al Khalifah ratified the constitutional amendment on April 3, 2017.