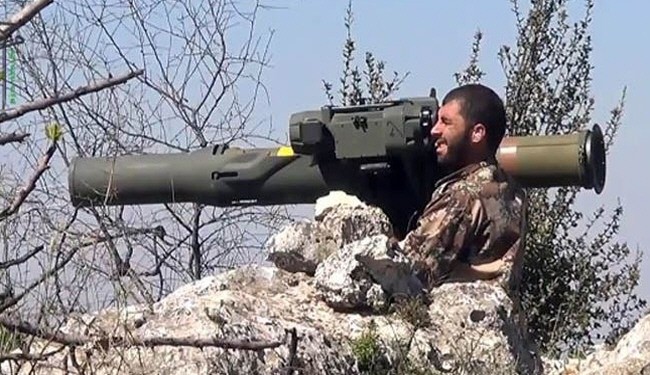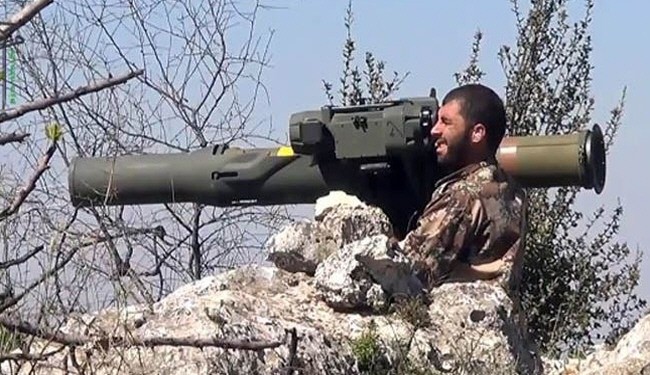 The ISIL Takfiri group has released a photo showing one of its members preparing to launch a US-made TOW anti-tank missile against rival terrorists in Syria's strategic and mountainous Qalamoun region along the border with Lebanon. The ISIL militant is shown aiming at the positions of the Jaysh al-Islam militant group on the outskirts of al-Qaryatayn, located approximately 120 kilometers (74 miles) northeast of the capital, Damascus.
Political analysts say the photo shows the scale of threats the ISIL militants pose to Qalamoun region against fighters of the Lebanese Hezbollah resistance movement.
On October 5, Hezbollah fighters killed scores of Takfiri militants after the gunmen crossed from crisis-hit Syria into eastern Lebanon and attacked the Lebanese resistance movement's posts.
Most of the militants killed during the clashes were from the al-Qaeda-linked al-Nusra Front. Two Hezbollah fighters were also killed in the shootout.
Meanwhile, Ghuraba al-Sham Battlion and Lions of Shahba Battalion, both allied to the so-called Free Syrian Army, are reportedly training their members in a camp set up in Qalamoun.
Over the past months, Lebanon has been grappling with terrorist attacks by al-Qaeda-linked militants and rocket attacks, in what is said to be a spillover of the conflict in Syria.
The Takfiri ISIL terrorists currently control parts of Syria mostly in the east and north. They have also seized large swathes of land in neighboring Iraq.
More than 1.1 million Syrian refugees are currently taking shelter in Lebanon. The influx of Syrian refugees is exerting huge pressure on Lebanon's poor infrastructure, education and health systems.
Syria has been grappling with a deadly crisis since March 2011. Western powers and their regional allies – especially Qatar, Saudi Arabia, and Turkey – are the main supporters of the militants operating inside Syria.
More than 200,000 people have died so far in the conflict in Syria, according to UN High Commissioner for Human Rights Zeid Ra'ad Zeid al-Hussein.