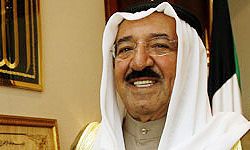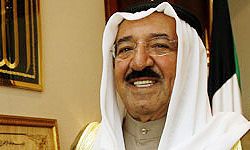 Dictator of Kuwait, heading a high level delegation, will arrive in Tehran next week to take part in the summit of the Non-Aligned Movement (NAM).
"According to announcements by the Kuwaiti officials, the country is going to attend the summit with a delegation at its highest political level," Ruhollah Ghahremani, the Iranian Ambassador to Kuwait, stated.
Based on this announcement, Sabah Al-Ahmad Al-Jaber Al-Sabah, puppet king of Kuwait, is going to travel to Iran at the head of high-ranking delegation.
Khaled Al-Ahmed Al-Sabah, state secretary of Kuwait, would also participate in the ministers meeting of the summit.
Deputy foreign ministers and experts from the NAM member states are scheduled to start a meeting here in the Iranian capital on Sunday.
The meeting will be held at the International Conference Hall of the Islamic Republic of Iran's Broadcasting (IRIB) for two days (August 26-27).
The meeting will draw up the agenda for the 16th heads-of-state summit meeting of the bloc to be held in the Iranian capital on Wednesday.
The experts meeting will be followed by the NAM's foreign ministers meeting on August 27-28. The heads-of-state summit of the bloc has been arranged for the two following days.
Iran will assume the rotating presidency of the movement from Egypt for three years during the upcoming summit.