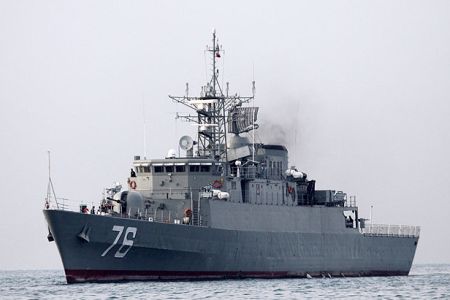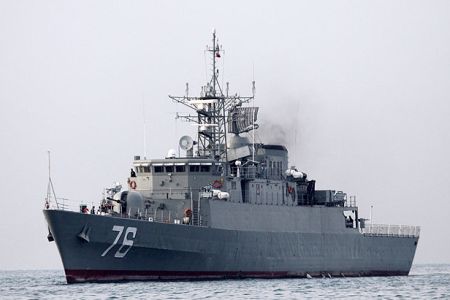 A spokesman for the Iranian Navy during the Velayat 90 drills says the domestically-built Jamaran destroyer has rescued a Saudi oil tanker from an assault by unknown boats in international waters.
Iran's Navy launched massive 10-day naval exercises codenamed "Velayat 90" on Saturday, December 24, covering an area from the east of the Strait of Hormuz in the Persian Gulf to the Gulf of Aden.
Iranian Navy's Deputy Commander Rear Admiral Seyyed Mahmoud Mousavi said on Monday that the Saudi oil tanker sent a distress call after it detected a number of unknown boats approaching.
"The Jamaran destroyer was immediately sent to the area [to help the oil tanker] and its presence caused the unknown boats fled the area which then came under the control [of the Iranian Navy]," he added.
Mousavi also noted that the Iranian naval forces monitor all the activities of trans-regional vessels.
"In addition to surface vessels, foreign aircraft including unmanned aerial vehicles (UAVs) are also monitored [by the Iranian Navy]," the commander added.
The Iranian Navy launched its first domestically-manufactured destroyer, Jamaran, in the waters of the Persian Gulf in February 2010, which completed its first international mission on Sunday, December 18, after conducting counter-piracy operations in the Gulf of Aden.
The 1,420-ton destroyer, which is part of the 16th fleet of Iranian warships, is equipped with modern radars and electronic warfare capabilities.
It has a top speed of up to 30 knots and a helipad. The destroyer features highly advanced anti-aircraft, anti-surface and anti-subsurface systems. The vessel has also been equipped with torpedoes and naval cannons.
The Iranian Navy has been conducting patrols in the Gulf of Aden since November 2008 in order to safeguard merchant containers and oil tankers owned or leased by Iran or other countries.
The Gulf of Aden, which links the Indian Ocean with the Suez Canal and the Mediterranean Sea, is a strategic energy corridor, particularly because the Persian Gulf oil is shipped to the West via the Suez Canal.