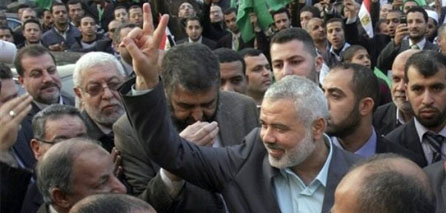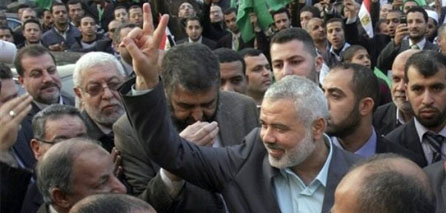 As Palestinians commemorated the third anniversary of a massive israeli invasion of the Gaza Strip on Tuesday, the Palestinian Prime Minister in Gaza, Ismail Haniyeh, called on the Arab League nations to show support for the people of Gaza and push for an end to the five-year long siege that has devastated the Gazan economy.
Haniyeh's call came as top israeli officials threatened a new invasion of Gaza, which they promised would be "painful" to the people of Gaza. In the 2008-9 invasion, which ended the day before the inauguration of US President Barack Obama, israeli forces killed over 1400 Palestinians, including over 300 children. Nine Israeli soldiers and 5 civilians were also killed during the same time period.
The Palestinian Prime Minister spoke in his statement about the importance of the city of Jerusalem to Arabs and Muslims, and encouraged Arab leaders to educate their people about the historical and religious significance of the city.
He referenced the israeli plan to cleanse the city of Jerusalem of its indigenous Palestinian inhabitants and Judaize the city – a plan laid out in 2006 by the Jerusalem municipality, known as the 'E1 Plan for Greater Jerusalem'.
Referring to the revolutions that have swept across the Arab world this year, Haniyeh stated, "The revolutions are the proof that the future is ours as Palestinians and for the Islamic and Arab people, the [israeli] occupation cannot escape from the legitimate Palestinian demand to have a state with Jerusalem as its capital."