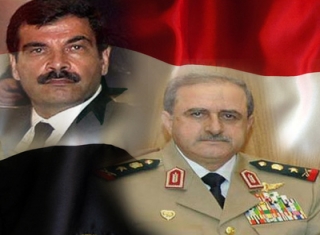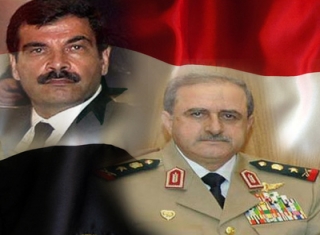 Here below the brief biographies of the three Syrian martyrs of Wednesday violent attack against the Syrian National Security building, killing and injuring ministers and high ranking security officials:
Assef Shawkat
General Assef Shawkat (1950 – 2012) was the deputy Minister of Defense of Syria since September 2011. He previously served as the army's deputy chief of staff from July 2009 till September 2011. He then bypassed the position of chief of staff to become deputy Minister of Defense. Shawkat was considered one of the president's top security chiefs, however, he was replaced in 2010 as head of Military Intelligence and made deputy chief-of-staff of the armed forces. He is a member of President Bashar al-Assad's inner circle. Since the appointment of General Dawoud Rajiha to head the Ministry of Defense, Shawkat was an important figure in the Ministry of Defense, though the army is under the de facto control of Maher al-Assad, the president's brother.
Born in 1950 to a middle-class family in Tartous, Shawkat studied law at Damascus University. He joined the army in the late 1970s.
Khaddam said that Gen Shawkat was a "smart, cultivated, and courageous officer with great ambitions", who had established ties with intelligence chiefs and other powerbrokers.
Dawoud Rajiha
Dawoud Rajha (1947-2012) was a Greek Orthodox Christian. He was an artillery specialist in the military academy, from which he graduated in 1967. He attained the rank of lieutenant general in 1998 and made full general in 2005, a year after being made deputy chief of staff of the Syrian Army. After serving as the army chief of staff since Ali Habib Mahmud was named to head the Ministry of Defense in 2009, he was appointed to replace Mahmud as defense minister on 8 August 2011.

Hasan Ali Turkmani

Hasan Ali Turkmani (1935-2012) was the former Syrian Minister of Defense. He graduated as a field artillery lieutenant and joined the Syrian Army in 1954.
Turkmani commanded a mechanized division during the 1973 Arab-Zionist war. He was promoted to the rank of major general in 1978. He was appointed Syrian army chief of staff in January 2002, replacing Ali Aslan.
In 2004, he became Defense Minister, replacing Mustafa Tlass. He was replaced in June 2009 by the former army chief Ali Habib Mahmud. On 03 June 2009, President Bashar al Assad appointed Hassan Turkmani as Assistant Vice President with the rank of minister.