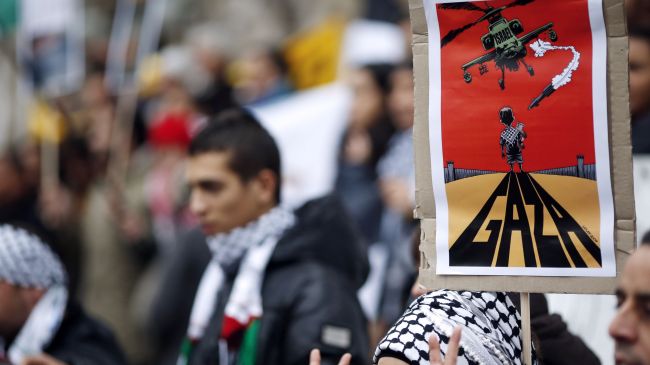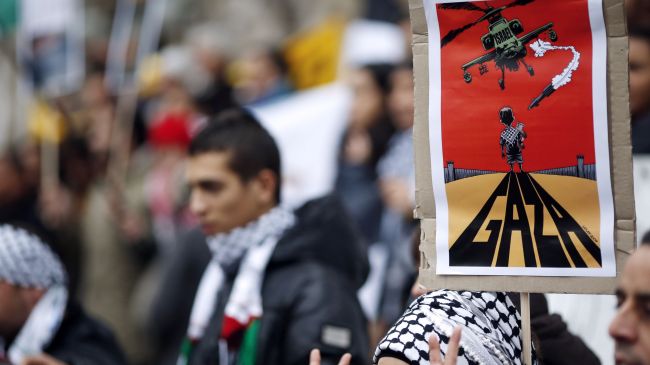 Demonstrators have taken to the streets across the globe to protest against the Israeli regime's relentless onslaught on the Gaza Strip.
On Monday, hundreds of demonstrators gathered outside the Israeli Embassy in New Delhi to protest against the Israeli regime's relentless bombing campaign in Gaza and to voice support for the Palestinians in the besieged coastal territory.
"Indian people are not going to sit down and watch. Israel is committing war crimes and the world must stop it," said one protester.
The demonstrators criticized the Indian government's "cold response" to Israel's aggression in Gaza and demanded that India cut all ties with the Israeli regime.
In Srinagar in Indian-administered Kashmir, anti-Israel demonstrators condemned Tel Aviv's "barbaric aggression in Gaza." They shouted "Down with Israel" and "Soldiers of Gaza, We Are With You" and burned Israeli flags.
Jammu Kashmir Liberation Front (JKLF) Chairman Mohammad Yasin Malik accused the United States and the European Union of directly or indirectly giving the Israelis the license to kill humans in Palestine.
"Any human who looks at the photographs of the infants killed by the Israeli terrorists cannot stop his eyes from shedding tears," he said.
In Karachi, hundreds of people staged a demonstration, demanding an immediate halt to the Israeli aggression and pledging solidarity with the Palestinians.
"The whole world is opposing Israeli attacks (on Gaza), but America is the bully that supports Israel, pats it on the back, encourages it and says that 'you reserve the right of your defense.' Defense from whom? Six-month old Palestinian infants, women, elderly people, sick who… are in their homes, in the hospitals and the ones who are victims of Israeli cruelty? Are they terrorists?" asked Naveed Qamar, the chief of the Karachi branch of Jamaat-ud-Dawah (JuD).
On Sunday, similar demonstrations were held in Egypt, Lebanon, the US, Canada, and several other countries.
Israeli airstrikes, shelling, and artillery fire have left at least 109 Palestinians dead and over 900 others injured since November 14. Some of the injured are in critical condition.
Israel has conducted more than 1,350 aerial and sea attacks against the Gaza Strip since November 14.
Gaza has been blockaded since June 2007, a situation that has caused a decline in the standard of living, unprecedented levels of unemployment, and unrelenting poverty.
The apartheid regime of Israel denies about 1.7 million people in Gaza their basic rights, such as freedom of movement, jobs that pay proper wages, and adequate healthcare and education.