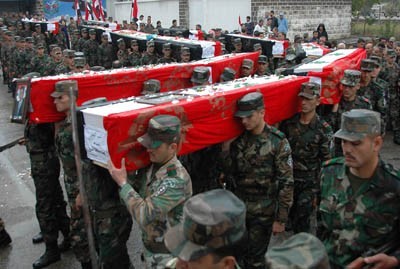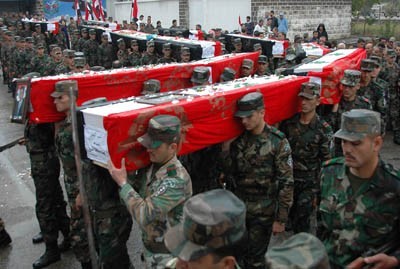 Thirteen army and security forces martyrs on Thursday were escorted to their final resting place from Homs and Lattakia Military Hospitals.
The martyrs were targeted by armed terrorist groups in Homs, Hama and Idleb Provinces while they were fulfilling their national duty to keep security and stability of the homeland.
Official ceremonies were held in honor of the martyrs as they were covered with the national flag and laurel wreaths and carried on shoulders while the army band played "the Martyr" and "Farewell" music.
The martyrs are:
Chief Warrant Officer, Ibrahim Mohammed al-Naddaf, Hama.
Warrant Officer, Emad Hafez Alne', Homs.
Warrant Officer, Osama Jamil Abu Alloush, Homs.
Chief Warrant Officer, Ali al-Ddali, Hama.
Sergeant Major, Zuhair Hassan Ahmad, Lattakia.
Corporal, Omar Mohammed al-Omar, Hama.
Private, Salem Mahmoud Alhabon, Aleppo.
Corporal, Yousef Dergham Mansour, Hama.
Private, Ata Mutaoe' al-Ayyed, Daraa.
Private Yahya Khalid Hajjo, Raqqa.
Private, Ammar Nashmy al-Khedr, Deir Ezzor.
Policeman, Ahmed Mohammed Kazem, Homs.
Policeman, Omar Mohammed Nizar Hilal, Aleppo.
Families and relatives of the martyrs said that the homeland is very expensive and deserves the martyrdom and sacrifices to be protected.
They expressed pride in their sons' martyrdom who sacrificed their lives to defend their homeland and thwart all the conspiracies targeting its steadfastness, dignity and pride.
They strongly condemned the criminal acts perpetrated by the armed terrorist gangs who are supported and financed by US, zionist powers and their regional allies against military figures and civilians, underling the necessity of prosecuting all those who are trying to tamper with the homeland security.