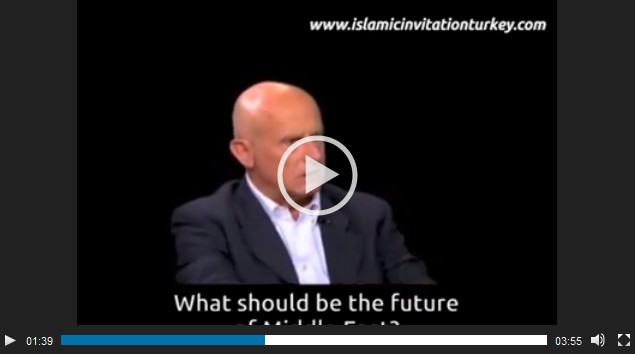 Amy Ayalon: We have to create a kind of reality. Realistic reality. We are living in Middle East. Then let's go back. If you are asking me. What is the reality? What should be the future of Middle East? Ten years from now? I will tell you, the whole concept of stability, security, statehood, should be based on some of parameters. First of all, we have to accept that it is VERY VERY IMPORTANT to create a coalition, a SUNNI COALITION that will be lead by Turkey.
LET'S WATCH THE PLAN OF AMY AYALON, THE EX-LEADER OF ISRAELI SHIN BET (INTERNAL INTELLIGENCE SECURITY), SAYS HOW THEY CAN USE SUNNISM.
Charlie Rose: We have turned to the question of Iran.
Amy Ayalon: Yes.
Charlie Rose: What should Israel do?
Amy Ayalon: Iran is a unite site. We cannot live with Iran having a nucleer military power. We sould not accept it.
It is clear and open that Israel is very uncomfortable of Iran's power. Is not it apparent that those who spill out their hatred against Iran are helping to Israel?
Amy Ayalon: The question is how much time do we have? And what should we do? Now for me, how much ime do we have is with a correlation to what should we do.
Israel is confessing that its moment of being eradicated by Iran is very close. However, Turkish Economy Minister of AKP (Turkish ruling Party of Erdogan) explained how they would help Israel and he prayed for Israel during Israeli dirty war on Gaza in 2014.
Amy Ayalon: Because if we are going to unilaterally without an American or ınternational support without creating an athmosphere in the Middle East, it is not only we shall have to face the reaction. Probably it is too late. All what we can achieve with our military power is probably to delay the program. I do not know… for 12, 18 or 6 months. But if assumption is that we are a part of that coalition, based on a kind of SUNNI coalition.
It is clearly understood that Israel is organizing the Shia-Sunni polarization in Iraq, Syria, Yemen. Moreover, Turkey, Egypt, Saudi Arabia are moving in this planned context.
Charlie Rose: What do you mean by Sunni coalition?
Amy Ayalon: Sunni coalition that means Turkey, Egypt, Jordan, Saudi Arabia understand that the major conflict is Shia led by Iran and they create this coalition as I mentioned before. You know.. to create this coalition that will face Iran. The Palestinian- Israeli conflict okay..
Imam Khomeini warned us about sectarian plot and identified the plots by saying:
"He who does shiism while he is a Shia and he who does sunnism while he is a Sunni is neither Shia nor Sunni; he is the hand of Imperiailsts among us.