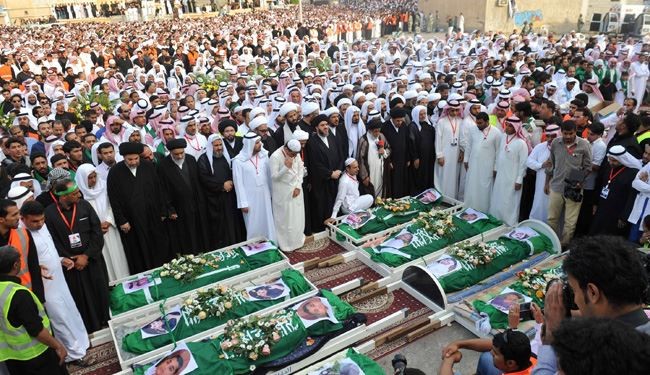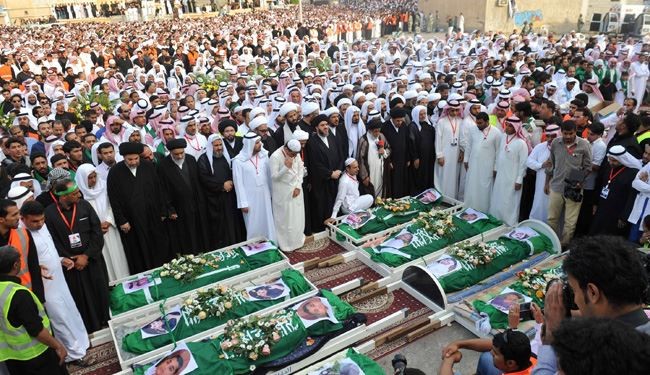 Thousands of mourners joined Friday the funeral of eight people killed during an unprecedented rampage against minority Shiites in Saudi Arabia's Eastern Province.
Seven of the dead were killed when masked gunmen opened fire on Monday night at a crowd in Al-Dalwa town, as Shiites commemorated Ashura, one of their holiest occasions.
An eighth from a neighboring village was killed by the assailants as they robbed his car to use in the attack, residents and local press said.
Mourners poured into Al-Dalwa from across the Sunni-dominated kingdom, a witness told AFP, saying that some also came from neighboring Bahrain.
"Sunnis and Shiites, we are brothers! We shall not abandon our homeland," chanted mourners, according to footage aired online, amid calls to reject sectarianism.
Senior officials in the kingdom have denounced the "terrorist" attack, which also led to the deaths of two policemen in a shootout with alleged suspects.
Posters of the deceased Sunni policemen were carried in the funeral.
Radical Sunni groups consider Shiites heretics and have targeted them in deadly attacks elsewhere in the region.
Shiite in the areas of Eastern Province complains of marginalization.Shiites say they face discrimination in seeking educational opportunities or government employment in the majority Sunni state and that they are referred to disparagingly in text books and by some officials and state-funded clerics.
They also complain of curbs on setting up places of worship and marking Shiite holidays, and say Qatif and al-Ahsa receive less state funding than Sunni communities of equivalent size.