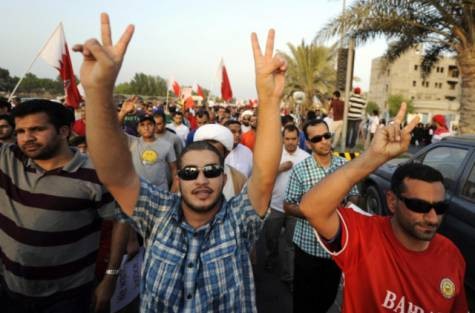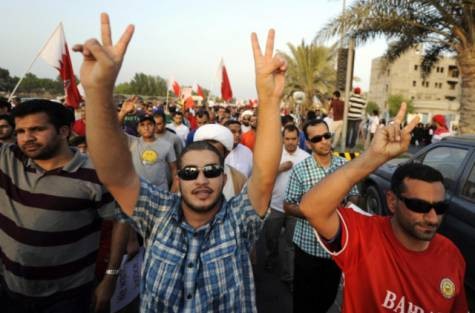 Manama: Tens of thousands of people chanting anti-government slogans and holding up pictures of jailed activists took part on Friday in Bahrain's first authorised opposition protest since June.
No clashes occurred at Friday's march along a three kilometre stretch of a highway west of the capital of Manama. Protesters carried Bahraini flags and held up images of rights activist and protest leader Nabeel Rajab, calling for his release.
Bahrain, where the US Fifth Fleet is based, protests began 18 months ago to demand democracy in the kingdom.
The government has denounced the protest movement, inspired by uprisings elsewhere in the Arab world, as sectarian and as part of a quest by Shiite Iran to dominate the region. Bahraini Shiites deny being steered from Tehran.
The rally, under the banner "Democratic Freedom" and organised by opposition groups led by the biggest bloc, Al Wefaq, was the first since the interior ministry banned Wefaq-led marches in June, saying these had ended in violence.
Rajab was sentenced two weeks ago to three years in prison on three counts of leading illegal protests, a verdict that drew criticism from Washington.
Opposition parties led by Al Wefaq are demanding full powers for the elected parliament to legislate and form governments. Many Bahraini Muslims especially Shiites complain of being politically and economically marginalised, which the government denies.
On Thursday, Bahrain's deputy prime minister met members of Al Wefaq at the group's request, Bahrain's Information Affairs Authority said.
In response to the protests, the rulers have increased parliament's powers of scrutiny over ministers and say policing is being revamped to conform with international standards.
The United States has pushed Bahrain's rulers to resolve the conflict through talks, but it values close relations that allows its fleet to run operations out of the Manama base.
US warships help ensure oil exports flow freely out of the Gulf. Iran has threatened a blockade if its protracted stand-off with Western powers over its disputed nuclear programme degenerates into conflict.