Iran
Middle East
Thousands in Iran's Mashhad attend funeral for three martyrs killed in riots
People in the northeastern Iranian city of Mashhad have attended the funeral procession of two members of Basij volunteer forces and a soldier, who were killed by rioters days earlier.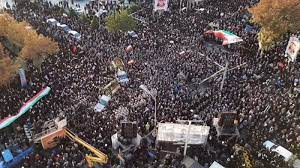 The funeral ceremony started on Saturday afternoon and drew a massive crowd to the streets of Mashhad. They marched alongside the coffins toward the shrine of Imam Reza, the eighth Shia Imam (AS).
The attendees shouted slogans such as "Down with the US!" and "Down with hypocrite!" to express their outrage at the enemies of Islam and the Islamic Republic.
Basij members Hossein Zeynalzadeh and Danyal Rezazadeh were martyred in a stabbing attack by rioters in Mashhad on Thursday, and soldier Reza Rezvani was martyred in the southeastern city of Saravan.
Four others were also injured in the stabbing attack in Mashhad, where rioters attempted to force the shops to shut down following foreign-backed calls for national strikes in Iran, but faced resistance from the Basij volunteer forces, which led to a violent altercation.
Foreign-backed riots have hit various Iranian provinces since 22-year-old woman Mahsa Amini died in hospital on September 16, three days after she collapsed in a police station. An investigation has attributed Amini's death to her medical condition, rather than alleged beatings by police forces.
The violent riots, meanwhile, have claimed the lives of dozens of people and security forces, while also allowing terrorist attacks across the country. In the last two months, the terrorists have set fire to public property and tortured several Basij members and security forces to death.
On October 26, a Daesh-affiliated terrorist attacked the Shah Cheragh shrine in the southern province of Fars before the evening prayers, killing at least 15 pilgrims — including a woman and two children — and injuring 40 others.
At least seven people were also killed after terrorists opened fire at people and security forces at a crowded market in Khuzestan province's Izeh around sunset on Wednesday.