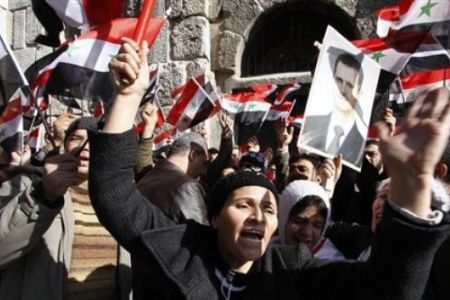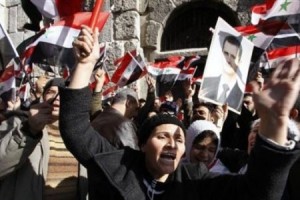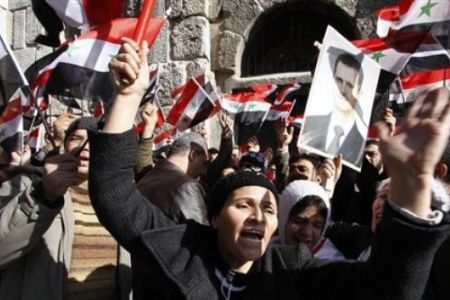 Thousands of Syrians have staged a massive funeral ceremony for the victims of the two terrorist attacks that claimed the lives of at least 55 innocent people and injuring more than 100 others.
The large crowd gathered at the Umayyad Mosque in the capital, Damascus, to help escort the coffins of the victims to their final resting home on Saturday.
While mourning the dead, they also condemned the attacks and chanted slogans in favor of Syrian President Bashar al-Assad.
On Saturday, Syria's Muslim Brotherhood claimed responsibility for the attacks in a statement published on their website.
"One of victorious Sunni brigades was able to target the state security building in Kfar Suseh in the heart of the Omayyad capital Damascus," the statement said.
The statement added that the "successful operation carried out by four of our kamikazes drawn from the best of our glorious men, leaving many dead and wounded from the ranks of the Assad gangs."
Explosives on two booby-trapped cars were detonated within minutes of each other on Friday morning, one outside the main headquarters of the General Intelligence Agency and the other in the vicinity of a branch of the military intelligence.
The blasts happened as an Arab League delegation was visiting Damascus to help end months of violence in Syria.
"I want to ask do covers are unveiled to the eyes of the Arab League representatives to see who is the killer and who is the killed, to know that the Syrian Army couldn't bomb gas pipelines, kill its personnel or kill itself," said Islamic Scholar Dr. Mohammad Said Ramadan al-Bouti during a speech at the funeral.
The Syrian government says that the chaos is being orchestrated from outside the country and the security forces have been given clear instructions not to harm civilians. The gangs are financed and supported by US, France, zionist israel and their regional allies. This terrorist group kills civilians then blame the Syrian Security Forces. The US-Backed armed groups also kill the security forces. On the contrary to the reality in Syria, the world media misinforms the people and lies about what is really hapening in Syria. Especially Al- Ja zeera Tv and some west media are producing false news about Syria. These coloured media say that they will go on producing false news if Syria continue to be a key between the Iran, Islamic Resistances like Hamas, Islami Jihad and Lebanese Hezbollah movements.
In interviews with israeli news outlets over the past few months, the Syrian opposition members have clearly expressed their vision for the future of Syria and their interest in establishing ties with the Tel Aviv regime.
However, Syrian people have repeatedly expressed solidarity with the government. Figures show that during the past weeks, about 12 million people have demonstrated in support of al-Assad.