Palestine
Thousands mark the 28th anniversary of Hamas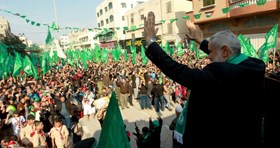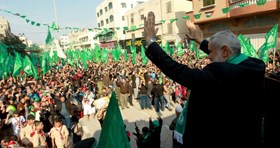 Tens of thousands participated Friday in a number of activities throughout Gaza Strip marking the 28th anniversary of Hamas's inception and in support of Jerusalem Intifada.
Local sources said that massive marches set off from the northern cities of the Strip, while thousands rallied in Khan Younis and Rafah to the south of Gaza amid the participation of senior leaders in the Islamic group and a number of Palestinian Legislative Council (PLC) members.
The participants raised Palestinian flags and chanted slogans in support of Jerusalem Intifada, the sources added.
During his participation at the northern Gaza march, Deputy Head of Hamas Movement Ismail Haneyya said that his group is still strong as it celebrates its 28th anniversary.
Hamas Movement has earlier declared its intention to organize separate marches throughout the Strip to mark its inception in addition to renewing support for the ongoing Intifada instead of organizing a central festival.
For his part, the leader in the Movement, Fathi Hammad, said that the Jerusalem Intifada will continue till removing Israeli occupation.
Israel has no future on our land, he underlined, stressing the importance of the resistance option to restore Palestinian rights.
In Khan Younis, member of Hamas's political bureau Khalil al-Haya stressed his group's strong adherence to Palestinian national constants.
"We strongly believe that the land of Palestine in its entirety—from the river to the sea—is an Arab Islamic land", he underlined.
Hamas is an Islamic national movement that works for the liberation of Palestine, al-Haya affirmed.
He underlined that his group is making great efforts for the liberation of all Palestinian prisoners from Israeli jails.
A similar event was organized in central Gaza Strip after Friday prayers amid the participation of the PLC member Mushir al-Masri.
"As we mark Hamas's 28th anniversary, we renew its adherence to resistance path till the liberation of all Palestinian lands", MP al-Masri said.
Along the same line, thousands marched in Rafah, to the south of the Strip, in support of the Jerusalem Intifada and to mark Hamas's 28th inception anniversary.