Pakistan
Thousands of Pakistanis attend funeral of anti-Taliban politician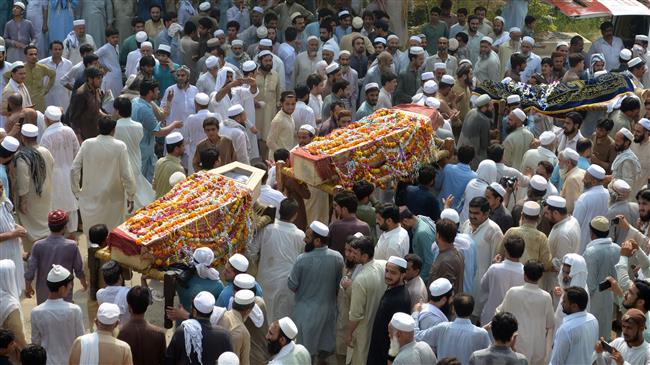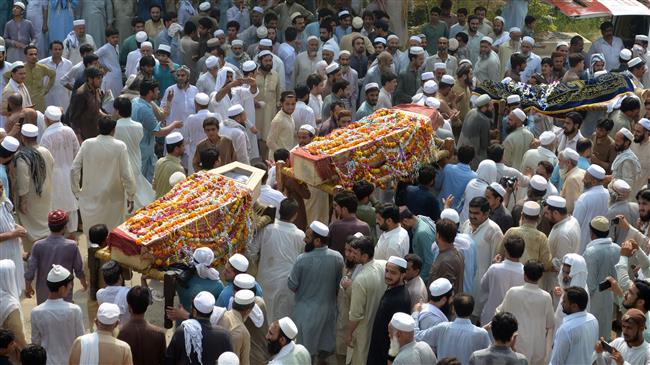 Thousands have flocked to the funeral of a senior Pakistani politician and a group of other activists who were killed during an anti-Taliban event in the country's troubled northwest.
Police estimated that 30,000 people attended the funeral of the local leader of the Awami National Party (ANP), Haroon Bilour, who was among those killed in the attack late Tuesday during an election rally.
Shops and businesses were also closed across the frontier hub near the Afghan border out of respect for those killed in the attack.
Lawyers in the northwestern Pakistani city of Peshawar went on strike on Wednesday to protest and mourn the death of Haroon.
The bomber struck when Bilour was about to address some 200 supporters in the volatile city. The powerful explosion left at least 20 people dead and dozens more injured.
Bilour was one of the ANP's election candidates and belonged to an influential political family in Khyber-Pakhtunkhwa province, of which Peshawar is the capital. His father, Bashir Bilour, one of the ANP's top leaders, was also killed in a bombing in 2012.
The bomb attack on Tuesday came hours after Pakistan's military spokesman said there were security threats ahead of the national election, which is scheduled to be held on July 25.
Mohammad Khorasani, spokesman for the Tehreek-e-Taliban Pakistan (TTP) militant group, earlier claimed responsibility for the attack in a statement.
Peshawar is considered a gateway to Pakistan's troubled tribal regions, where many militant groups operated until the government launched operations to oust them.
Militants have targeted politicians, religious gatherings, security forces and even schools over the past few months in Peshawar.
Despite frequent offensives by the Pakistani army, acts of terror by militant outfits continue to target security forces as well as civilians.
Thousands of Pakistanis have lost their lives in bombings and other militant attacks since 2001, when Pakistan entered an alliance with the United States in Washington's so-called war on terror.