Syria
Thousands of Syrian Citizens Gather in Jableh in Rejection of AL Decision against Syria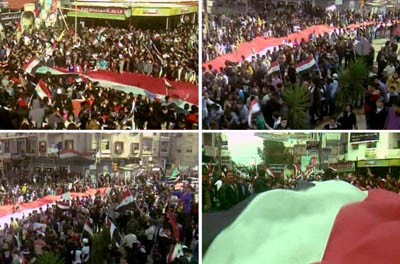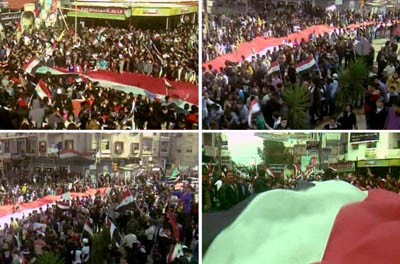 Thousands of Syrian citizens on Saturday gathered at al-Amara Square in the City of Jableh in Lattakia governorate to express rejection of the Arab League (AL) decision against Syria.
The participants voiced support of Syria's independent national decision and the comprehensive reform program led by President Bashar al-Assad.
They chanted national slogans to express appreciation for the Syrian army's sacrifices to defend the security and safety of the homeland in the face the foreign-backed armed terrorist groups that commit killing and sabotage acts and terrify citizens.
The participants stressed commitment to the national unity, rejecting all attempts of spreading chaos.
Dr, Bassam Hassan, member of "All for The Homeland" campaign, said that the AL decisions are a flagrant violation of its charter and that they serve Zionist and American agendas aimed at undermining Syria's unity and stability.
For her part, the participant Tharaa Zureiqa alarmed to the schemes targeting Syria and to called for standing together to preserve its sovereignty and national principles.
Other citizens, taking part in the event, said that the AL 's renounced Syria's supportive role to resistance and Arab issues, stressing that the AL decision aimed at undermining Syria's pan-Arab role.
They added that the AL decision stemmed from the failure of the US and the West in issuing a UN resolution against Syria due to the Russian and Chinese stances that reject interference in other countries' affairs.
The participants stressed that Syria is strong thanks to its people and their national unity and that it will come out triumphant from the crisis.
They also raised banners that condemned the AL decision, considering it as a flagrant interference in Syria's internal affairs and that it undermines the joint Arab action.