Europe
Economy
Thousands of UK ambulance workers join nurses in strike over pay
Tens of thousands of British nurses has gone on strike in their unprecedented second round of industrial action in less than a week, raising concerns over the patient safety as the ambulance staff are also set to go on strike.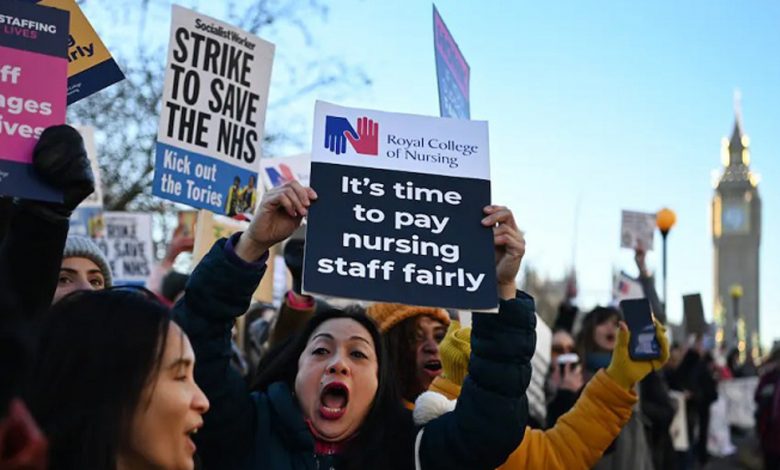 More than 100,000 members of the Royal College of Nursing (RCN) in England, Wales and Northern Ireland held their one-day stoppage on Tuesday after walking out last Thursday for the first time in the union's 106-year history, as the government failed to respond to their requests over pays and conditions.
British nurses have demanded a 19 percent pay rise to be able to cope with soaring inflation. However, the government has said it cannot afford to pay more than the 4-5 percent, discussing that further pay increases would mean taking money away from frontline services.
Health Secretary Steve Barclay has discussed that "the RCN's demands are unaffordable during these challenging times and would take money away from frontline services while they are still recovering from the impact of the pandemic."
On the other side of the ledger, the RCN has slammed the conservative government for refusing to discuss pay as part of stalled negotiations to end the dispute, and warned the strikes could be repeated in the coming months.
"The only reason we're entrenched is because we've got no one to talk to about what the issue is," the union's director in England, Patricia Marquis, told Times Radio on Monday.
"Sadly, if there is no resolution, then our members have taken a vote to take strike action and the mandate that lasts for six months," she added.
The industrial action is not only limited to the nurses in the UK. The whole country is grappling with strikes by public and private sector workers.
Ambulance workers, including paramedics and call-handlers, are set to strike on Wednesday. A second round of such walkout is scheduled for the next week, while others, including Royal Mail workers, railway crew and Border Force staff are staging stoppages over the Christmas period.
Britons are grappling with a cost-of-living crisis worsened by decades-high inflation, which reached a 41-year high of 11.1 percent in October.