Palestine
Lebanon
Middle East
Three rockets fired from Lebanon toward Israeli-occupied territories
Three rockets have reportedly been fired from Lebanon towards northern Israeli-occupied territories, triggering alarm sirens.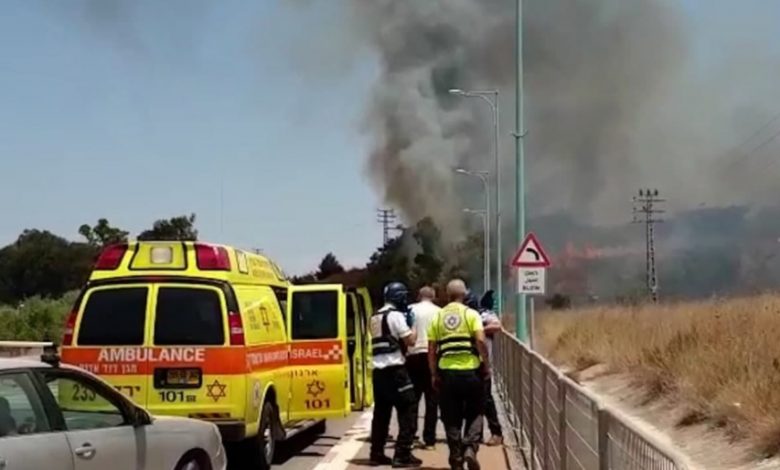 Sirens warning of a rocket attack were sounded in several Israeli communities, including the town of Kiryat Shmona, near the Lebanese border.
There were no immediate reports of casualties or material damage.
The surprise sirens sent residents scrambling to shelters in the town.
Explosions were heard in the area and videos showed smoke rising from an impact site.
One of the rockets reportedly caused a large fire in a field near the Israeli city of Kiryat Shmona.
Kiryat Shmona's mayor urged locals to stay close to bomb shelters until the situation becomes clearer, Israeli media outlets reported.
The Israeli military announced in a statement that three rockets were launched from Lebanon, with one falling short of the border and the two others striking open areas inside Israeli-occupied lands.
"In response, artillery forces attacked Lebanese territory," the Israeli military said.
On July 20, the Israeli military fired artillery shells into southern Lebanon, shortly after the regime's aircraft launched a number of missiles at targets near the northwestern Syrian city of Aleppo.
The Israeli army said in a statement at the time that two rockets had been fired from Lebanon at the northern part of the occupied territories, setting off warning sirens in the Western Galilee region.
The Israeli military said it later fired artillery shells at targets in Lebanon. It gave no details about which targets were hit or who was behind the rocket fire.
The commander of the Lebanese Armed Forces has warned Israel against any provocative moves across the country's borders, saying the forces will allow no one to take advantage of Lebanon's political and economic crises to foment instability there.
"We keep an eye on our border to confront the Israeli enemy's danger, which has recently stepped up its aggressiveness against Lebanon and threatened to wage a new war," Joseph Aoun said on the occasion of the Lebanese Army Day on July 30.
"The Lebanese armed forces will remain the safety valve of our homeland and the backbone of the state. We will remain faithful to our oath no matter how rough the road or heavy the challenges. Our priority has been and will remain to protect and fortify the military," Aoun said then.