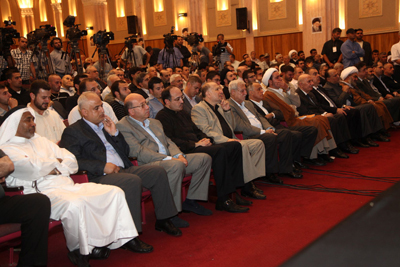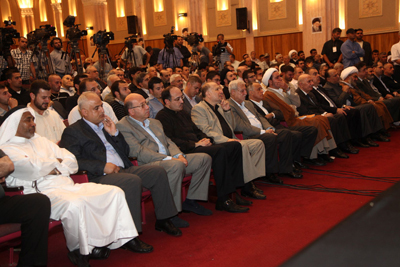 Once again, Grand Ayatollah Sayyed Mohamad Hussein Fadlullah was able to join all Lebanese without exception…
Once again, Grand Ayatollah Sayyed Mohamad Hussein Fadlullah was able to deliver a message of unity and peace to all Lebanese, a message of commitment to all values and principles, at the top of which comes the recognition of the patriots…
Through his sorrowful death, Grand Ayatollah Sayyed Mohamad Hussein Fadlullah accomplished his mission and joined Lebanese, all Lebanese regardless of their identities and sects, around him…
With his sad death, Ayatollah Sayyed Fadlullah made the headlines in Lebanon and the region as his lovers and supporters were unable to believe that this great man has actually passed away and that they wouldn't find him anymore ready to answer their questions, all their questions, including the sensitive ones…
Sayyed Fadlullah, who passed away on Sunday, was not a traditional cleric but one of a kind. His lovers, who used to have the passion of listening to him talking about everything and astonishing everyone, couldn't believe that they have lost him, that they have lost the humble and modest great man, the man they really loved for everything he represented, the man who made a whole generation really love God.
All Lebanese, from the so-called loyalty and opposition blocs, had one stance: the loss is a huge one, a loss that cannot be easily filled up. Yet, everyone believed that Sayyed Fadlullah won't die in terms of values and principle. His eminence will always be alive through his heritage in the minds of his lovers who will continue his path.
LEBANESE PRESS MOURNS SAYYED FADLULLAH
Sayyed Fadlullah made on Monday the headlines of the Lebanese press, that seemed for once to be united over the great loss that happened with his death.
"The reference which took us to the future," Lebanese daily As-Safir wrote in bold in its first page. The daily noted how it was difficult to talk about Sayyed Fadlullah in the form of the "absent," stressing that the late top cleric was always shining in terms of religion and life. "What consoles us resides in Sayyed Fadlullah's path, his successful institutions working in the interest of the human being, and first of all in the rich heritage he has left to all generations," the daily said. "You're the model and the ideal today and tomorrow and in all times," the daily concluded, addressing Sayyed Fadlullah's soul.
For its part, Lebanese daily Al-Akhbar dedicated an exclusive dossier to the spirit of Sayyed Fadlullah, under the name: "The departure of the enlightened scholar." The daily pointed out how Sayyed Fadlullah's lovers didn't believe that his eminence has actually died, saying that in one sense or another, they didn't want to their daily relation with his eminence to end as he was the one they used to tell him all their secrets hoping for some comfort. The daily published a variety of articles about the late cleric covering all the aspects, from the religious one to the social and educational one. In one article, one of the editors revealed secrets about her love and passion for Sayyed Fadlallah. "A lot of those people we see everyday have shared their secrets with Sayyed Fadlallah. A lot of them have knocked his door open to everyone, even without appointments, asking for advice. He died before I ask him my own question, the question that will remain a secret for ever after his loss," she said.