Africa
'Time for Bouteflika's men to go:' Algerians protest still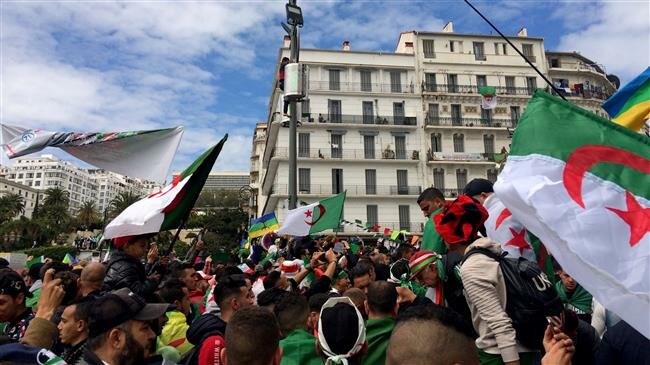 Thousands of Algerians have once again taken to the streets of the capital, Algiers, after the resignation of President Abdelaziz Bouteflika to demand the removal of the remnants of his regime.
The Friday protest came after calls for "joyful demonstrations" were made by activists on social media to "peacefully bring down" what they believed was still "a dictatorial regime."
"Our victory is partial," lawyer Mustapha Bouchachi, one of the leading voices of the protest movement, said, calling for the protests to continue until the removal of all of the Bouteflika regime leftovers.
"Algerians will not accept that symbols of the regime… lead the interim period and organize the next elections," Bouchachi said in a video posted online.
The protesters called for the resignation in particular of Abdelakder Bensalah, the speaker of the upper house of parliament, Tayeb Belaiz, a minister of 16 years, and Prime Minister Noureddine Bedoui. The triumvirate are overseeing a political transition after Bouteflika resigned earlier this week.
Bouteflika announced his resignation on Tuesday following months of protests against his rule that erupted over his decision to seek a fifth term. The 82-year-old had been in power for the past 20 years but was reportedly in poor health and had rarely appeared in public after suffering a stroke in 2013.
PressTV-Algerian President Abdelaziz Bouteflika resignsAlgeria's ailing president Abdelaziz Bouteflika has submitted his resignation with immediate effect.
"Bouteflika leaving means nothing if his men continue to run the country," said Said Wafi, a 42-year-old bank cleric who came from the nearby city of Boumerdes to take part in the protest.
Samir Ouzine, 19, a student, agreed, saying, "Bouteflika was very sick. He wasn't really governing, and nothing will change if he alone leaves and his men stay."
Several of Bouteflika's close allies had ditched him following weeks of protests, including armed forces chief Ahmed Gaid Salah. The protesters, however, view Salah as a key defender of the "system" as well.
The Liberte newspaper said many Algerians could not forgive Salah for having backed Bouteflika almost to the end.
"After the Bouteflika clan, it will be the turn of the armed forces chief to face the street," the daily said in an article.
Algeria's spy chief fired
Also on Friday, reports said that the country's intelligence chief, retired army general Athmane Tartag, had been removed.
The private Ennahar TV said that Tartag's powerful intelligence position, currently under the authority of the presidency, would return to the supervision of the Defense Ministry.
No replacement has been announced for Tartag, who was a close ally of Bouteflika.