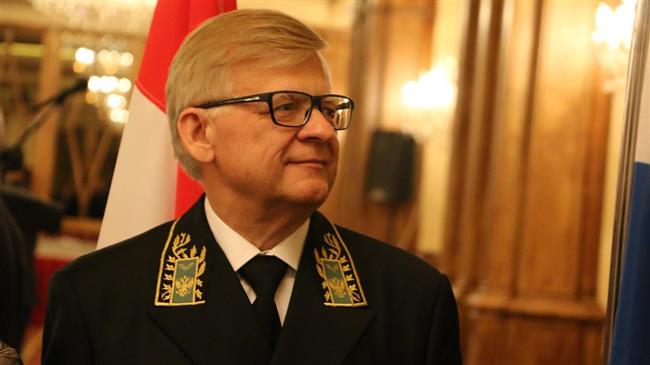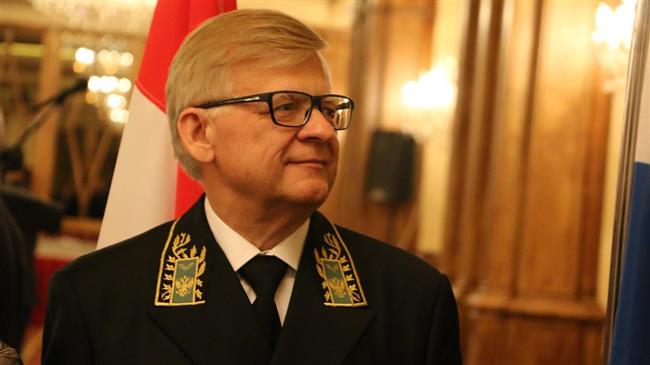 Russia's ambassador to Lebanon says the Lebanese Hezbollah resistance movement and Iran, which have been helping the Syrian army in its counter-terrorism battles, should not withdraw from the Arab country until the elimination of all terrorists.
Speaking to the Beirut-based al-Nour radio station on Monday, Alexander Zasypkin dismissed calls by "the other camp" for Hezbollah and Iranian military advisory forces to pull out of Syria as an attempt to cause tension between Russia and its allies in Syria.
"It isn't permissible and it isn't allowed during these circumstances to discuss Hezbollah and Iran's departure from Syria, especially since terrorism hasn't been eliminated yet," he said, according to a statement by Hezbollah.
Iran has been offering military advisory support to Syria at the request of the Damascus government, enabling its army to speed up its gains on various fronts against the terror groups. Hezbollah forces have also been aiding the Syrian government clear areas bordering Lebanon of terrorist groups.
Concerned over Syrian advances, the US and Israel, which support anti-Damascus terrorists, have called for Iranian advisors and Hezbollah's fighters to leave Syria.
The Tel Aviv regime launches frequent attacks against targets inside Syria in what is widely viewed as an attempt to prop up the terrorist groups that have been suffering heavy defeats at the hands of Syrian soldiers.
A top security official says Iran will maintain its advisory mission in Syria and continue support for resistance groups, in response to the US calling for those activities to be stopped.
There has been a hike in Israeli strikes since the collapse late last year of the Daesh terror group, something that significantly demoralized the other Takfiri militant groups operating against Damascus.
In one occasion, seven Iranian military advisors lost their lives as the Israeli aircraft violated Lebanon's airspace to strike a Syrian army base in Homs Province in April.
Israel has also been providing weapons to anti-Damascus militants as well as medical treatment to Takfiri elements wounded in Syria.
Zasypkin further denied the rumors regarding the alleged tensions between the Russian military and Hezbollah along the Lebanese-Syrian border.
"The other camp is focusing on this issue to sow doubt and cause problems between the Resistance axis and Russia; and this is not acceptable," he said. "The relation between Russia and the Resistance axis in Syria is a relation of cooperation."
A top Russian military official says Daesh Takfiri terrorists are active in areas controlled by US military forces in Syria.
The Russian envoy further criticized the US presence in Syria as a major obstacle to resolving the crisis in the Arab country.
"The US presence in Syria is a major cause behind the complications in this country, as well as behind the failure to reach solutions," he added.
US forces maintain significant presence in northern Syria, where they back Kurdish militants operating against the Syrian government. Washington has deployed around 2,000 troops to the Arab country.
Besides its unilateral military activities in Syria, Washington has also been leading a coalition of allies in a so-called fight against Daesh since 2014.
The strikes have on many occasions resulted in civilian casualties and failed to fulfill their declared aim of countering terrorism.
Damascus has on several occasions written to the UN, complaining that the US was flagrantly violating its sovereignty. The US supports militants fighting to topple President Bashar al-Assad and has repeatedly attacked Syrian army positions.
The Russian diplomat concluded that "Russia, like all countries, has the right to have its own strategic vision [for Syria], but in the end the decision goes back to the Syrian leadership, which is the only side that is allowed to make such decisions."