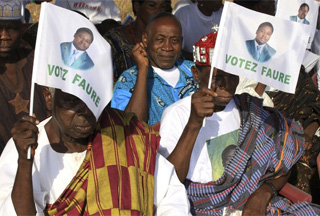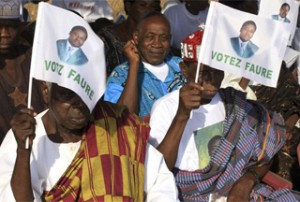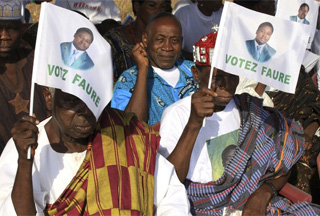 Voters in the West African state of Togo are going to polls on Thursday amid fresh efforts to prevent the 2005 post-election violence being repeated.
Togo's incumbent President Faure Gnassingbe, who is seeking a second term, will be challenged by six opposition candidates, with the economist, Jean-Pierre Fabre, 58, as the main rival.
The 43-year-old Gnassingbe came to power in a controversial election in 2005 to continue his father's 38 years of ruling. Dozens of civilians were killed in the violence following the allegedly rigged vote.
The voting will begin at 7:00 am and close at 5:00 pm with more than three million people going to polls.
Contrary to the previous electoral race, the campaigns for the polls were finished Tuesday midnight peacefully.
Some 15,000 opponents of Togo's existing government gathered in Lome's stadium late Tuesday calling for an end to the tyrannical regime.
The current president has urged voters to remain calm and to keep the peace on polling day and during the vote-counting period.
The United Nations spokesperson Martin Nesirky also urged all those involved in the elections to ensure that the vote is free and fair.
"The Secretary General calls on all political leaders and institutions and calls on all leaders and institutions to ensure that the election is credible and peaceful and reflects the will of the people of Togo," Nesirky said.
Some 40 international observers from the African Union, 130 from the European Union, 150 civilians and 146 soldiers from the Economic Community of West African States have been deployed to the African state to ensure that Thursday's vote goes smoothly.