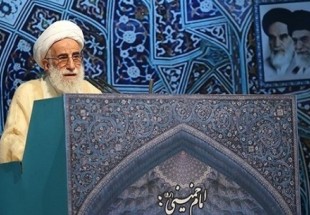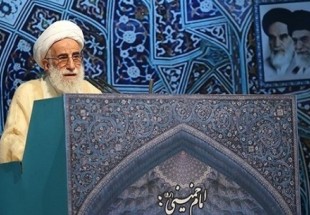 Tehran Temporary Friday Prayer Leader Ayatollah Ahmad Jannati referred to the designation of current Iranian year as the 'Year of Economy of Resistance; Plan and Implementation', saying that resistance economy needs revolutionary methods.
Addressing congregational prayers on Friday, Jannati maintained that the ordinary administrative procedures will not help materialize resistance economy.
Economy of resistance is seeking to withstand the US and West and revolutionize economic situation in the country, he said, noting that administrative moves will not suffice; rather necessary actions should ne undertaken in the field.
Taking necessary actions will be possible only through revolutionary spirit and those lacking such a spirit are thinking about themselves and their future, the cleric said.
Iran boasts of numerous capacities and 85 percent of its mineral resources have not yet been explored, he said, wondering why such holdings are not utilized.
Jannati also referred to Supreme Leader of the Islamic Revolution Ayatollah Khamenei's warning about extravagancy of energy to the tune of 100 billion dollars, saying that using energy sparingly will save us 100 billion dollars which is a great amount.
Such issues require a revolutionary spirit and a revolutionary person will believe neither in surrendering nor sanctions; rather he accepts economy of resistance, Jannati said.