Iran
Middle East
Top Commander Boasts IRGC's Superior Intelligence Dominance over Borders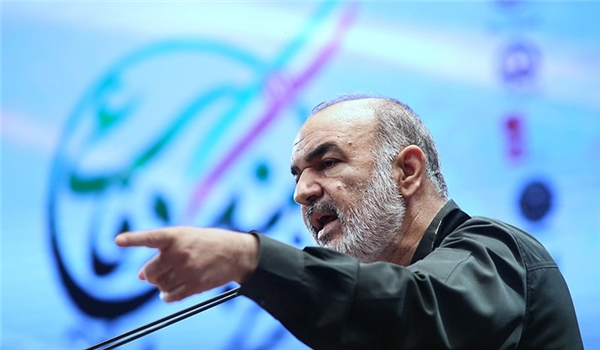 Commander of the Islamic Revolution Guards Corps (IRGC) Major General Hossein Salami asserted that his forces are enjoying impeccable intelligence dominance over Iran's borders and border areas, reassuring that the IRGC is fully ready to respond to any aggression against the country's sovereignty.
During a visit to the Northwestern borders of the country in East Azerbaijan province on Friday, Major General Salami reassured the force's complete intelligence dominance over border areas, saying border units are a sign of the country's sovereignty.
He hailed the IRGC border guards' high level of preparedness, saying the force would deliver a proportionate response to any act of aggression and violation of the countries soil.
"Ensuring [border] security is among the major missions of the IRGC," the top commander underscored.
On Wednesday, Hamzeh Seyed al-Shohada Base of the IRGC announced that members of a terrorist cell, responsible for martyring a member of Basij forces, were killed or arrested in the Northwestern province of West Azerbaijan.
In mid-May, Salami warned of the US full-scale intelligence war against Iran, saying that Tehran will defeat Washington in this front.
"We are able to defeat the enemy in intelligence war; breaking the enemy's will to use power means disarming the enemy," General Salami said, addressing the IRGC intelligence officials in Tehran on May 18.
Earlier in May, Commander of the Iranian Border Guards Brigadier General Qassem Rezayee assured the nation that full security prevails in all borders of the country.