Iran
Middle East
Palestine
Top Commander: Iran to Blame UAE for Slightest Threats in Persian Gulf after Abu Dhabi Deal with Israel
Chief of Staff of the Iranian Armed Forces Major General Mohammad Hossein Baqeri condemned the UAE's compromise deal with Israel as an act of treason that will make Tehran start a fundamental revision of its ties with Abu Dhabi, and warned that the slightest threat to Iran's national security in the Persian Gulf will be blamed on the UAE.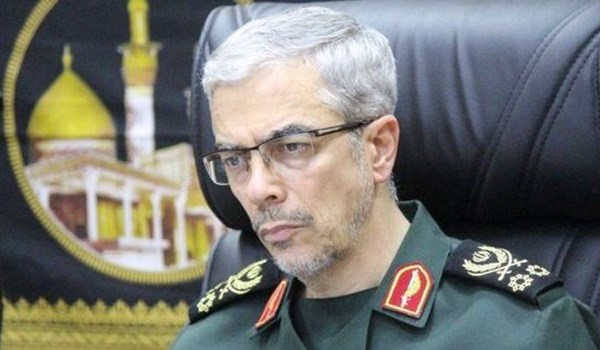 "Unfortunately, the UAE has reached a deal to normalize ties with the child-killing Israeli regime," Baqeri said on Sunday, warning, "We consider any tension in the region as a consequence of this move."
"Iran will not endure any incident in the Persian Gulf or any threat against its security," the general said.
"It is not acceptable for the UAE, as an Arab and Muslim country, to establish ties with a regime that has trespassed the first Muslim qibla, and has displaced, killed and imprisoned the Palestinian people," he added.
Major General Baqeri emphasized, "Definitely, the Iranian nation's approach towards this neighboring state [UAE] will change fundamentally, and the Islamic Republic's Armed Forces will also deal with that country with different calculations."
"The UAE had better reconsider this decision before it is too late, and leave the path that undermines its own security and the security of the region," the top commander reiterated.
Trump on Thursday announced a deal brokered by his government between Israel and the UAE which he said would lead to full normalization of ties between the two.
Critics see the deal as the latest attempt by Trump to save his presidential campaign against the Democrat Joe Biden.
In relevant remarks on Saturday, Iranian Supreme Leader's Top Aide for International Affairs Ali Akbar Velayati said the United Arab Emirates' recent deal with Israel meant betrayal of the Islamic Ummah, adding that the UAE's move is a gift to Trump and Netanyahu in the run-up to elections.
Velayati said in a statement on Saturday that formation of official ties between the UAE government and Israel is tantamount to turning back on the Palestinian cause, betraying the Islamic Ummah and shifting the balance of power in favor of the Zionist regime.
Obviously, such a shameful act will lead to nothing but isolation in the Islamic Ummah and accelerating the demise and collapse of the Zionist regime, he said.
"After the scandalous failure of the Deal of Century and the US failure to bring the Resistance [Front] to its knees in Iran, Iraq, Syria, Lebanon and Yemen, the current compromise has in fact unmasked the lackeys of the US in the region and what the Emirati did was sycophancy to Trump and Netanyahu in the run-up to elections," Supreme Leader's top advisor added.
After the fabrication of the Zionist regime in the land of the first Islamic Qibla and the occupation of Palestine, one could never have imagined that the Arab Muslim states would ever dare to recognize it. But with the duplicitous behaviors of some reactionary Arab rulers over seventy years, it became clear to all political experts that in an unequal balance, the mobilization of all Arab countries led by [Gamal] Abdel Nasser could not succeed during the three wars between the Arabs and Israel, Velayati said, noting that "one of the reasons for these defeats was the lack of support and cooperation against the occupying regime, so that tiny Israel managed to win against some subordinate Arab states."