Iran
Top Commander: IRGC to Humiliate Enemy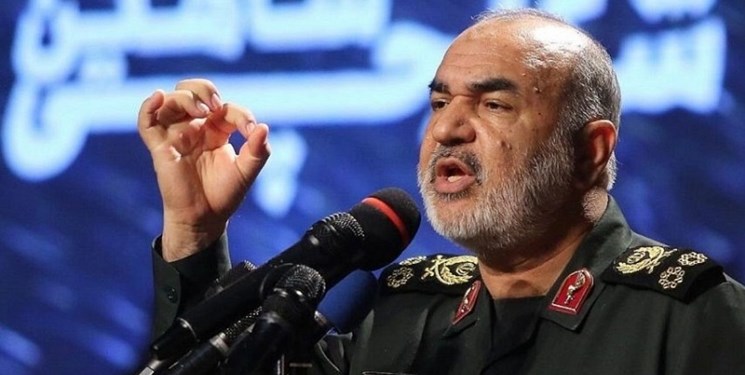 The Islamic Revolution Guards Corps will send the enemy to the graveyard of history with humility, IRGC Commander Major General Hossein Salami said.
"We will continue resistance and, God willing, we will send the enemy to the graveyard of history with humiliating defeats," General Salami said.
"Our enemies are frustrated, helpless, powerless and defeated," he said, adding, "Islam is expanding thanks to steadfastness, patience, loyalty and sacrifice of Muslims."
"We will keep the flag of Islam hoisted till the end and will not allow the glorious achievements of the martyrs to be harmed," the IRGC commander stated.
In relevant remarks in mid-March, Major General Hossein Salami said that the resistance of the Iranian nation against the pressures and sanctions of the enemies has exhausted them.
General Salami made the remarks, addressing the unveiling ceremony of the IRGC Navy's missile town equipped with various systems and cruise and ballistic missiles with different ranges.
"After being defeated in big military wars, proxy wars and cultural aggression, the enemies of Islam and Iran have moved along three main lines to hit a blow at the Islamic Republic, and paralyzing the economy and pressuring people's livelihood with the aim of bringing the Iranian nation to its knees is the central point of the enemy's strategy in achieving these sinister goals."
He underlined the enemies' inability, defeat and desperateness in implementing its sinister strategies against Iran, saying that the Iranian nation has stood with dignity and overcame them without fear of sanctions.
"The Iranian nation has made the enemy exhausted in exerting pressures and sanctions," General Salami stressed.