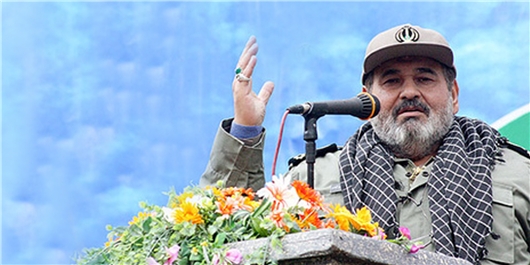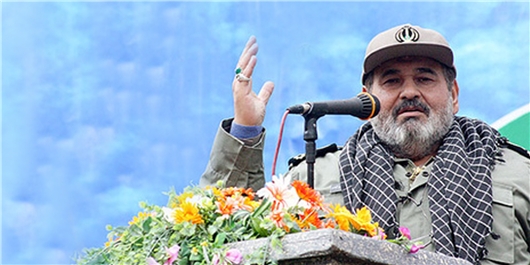 Iran's Chief of Staff Major General Hassan Firouzabadi lashed out at Israeli Prime Minister Benjamin Netanyahu for his hostile remarks against Iran during his address to the UN General Assembly.
"The Americans have allocated their full support to Israel and it is thus quite natural that Netanyahu will turn (into a) mad (dog) before that country's officials and speak rudely against the Muslims and our nation," Firouzabadi said in Tehran on Wednesday.
Netanyahu stepped up the regime's belligerent rhetoric against Iran during his speech at the 69th annual session of the UN General Assembly in New York on Monday.
In relevant remarks on Tuesday, Iran's Deputy Ambassador to the UN Khodadad Seifi rejected Netanyahu's allegations about Tehran's nuclear drive and military nuclear capability, saying he was deceiving the public to justify Tel Aviv's war crimes against Gazans.
"The remarks made by the Israeli regime's premier include baseless allegations against the Islamic Republic of Iran and are basically made with the aim of attacking others for justifying the crimes the regime recently committed against Palestinian civilians," Seifi said.
"The Israeli prime minister desperately sought to promote Iranophobia and Islamophobia to achieve his goals," the Iranian official said.
It is "ridiculous" that a regime with a record of "violence" and no respect for UN resolutions accuses others, the diplomat said.
Seifi further noted that Netanyahu's remarks made the attendees at the UN gathering laugh as the Tel Aviv regime has breached international laws and regulations in its recent attack against Palestinians.
The Iranian diplomat said the recent crimes against Gaza are just one set of incidents among many such crimes.
The Iranian deputy envoy to the UN added that Israeli nuclear weapons are a source of serious concern in the region and the rest of the world since Israel has repeatedly shown how bloodthirsty it is.
He also stated that Netanyahu's comments are part of Tel Aviv's campaign to undermine the negotiations on Iran's civilian nuclear program.
In September, Director-General of the International Atomic Energy Agency (IAEA) Yukiya Amano appreciated Tehran for its cooperation with the agency, and said Tehran has done its best meet details of the Geneva nuclear deal struck by the country and the six major world powers on November 24, 2013.
Amano confirmed that Iran was living up to the six-month accord reached last November.
The measures implemented by Iran, and the further commitments it has undertaken, represent a positive step forward.