Iran
Middle East
Top Commander Underlines Iran's Drone Power
Chief of Staff of the Iranian Armed Forces Major General Mohammad Baqeri lauded the country's achievements in developing different types of drones, saying that the pilotless aircraft have enhanced Iran's deterrence power.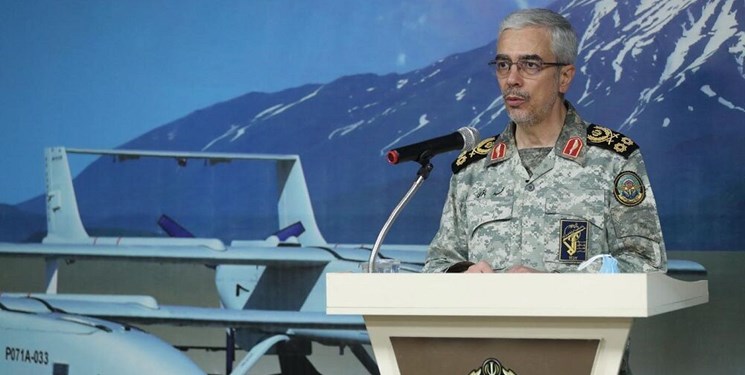 General Baqeri made the remarks during a visit to a secret underground drone base of the Army on Saturday.
He hailed the drone capabilities of the Iranian Army.
General Baqeri underlined the significance of drones in defending the country's interests, and said that they have found a special place in different defensive, offensive, land, sea, air and air defense areas.
Noting that deterrence is not possible with old methods and equipment and requires new methods, he said that "the drones that we saw today can play such a role".
General Baqeri also underscored that Iran will never underestimate any threat.
The Iranian Army on Saturday unveiled a new cruise missile with a range of 200km fired from drones.
The new achievements were unveiled during a visit by General Baqeri to an Army-owned secret drone base on Saturday.
During his visit, the 'Heidar-1' cruise missile and 'Heidar-2' cruise drone were unveiled by the Army of the Islamic Republic of Iran.
'Heidar-1' cruise missile has a range of 200 kilometers and its speed at the moment of hitting the target is 1,000 km/h. It is the first cruise missile capable of being firing by a drone.
Iran has made great progress in developing different drones and missiles and has been able to export them to other countries.
Earlier this month, General Baqeri and Tajik Defense Minister General Sherali Mirzo inaugurated a plant in Tajikistan to manufacture Iran-made Ababil 2 drones in the Central Asian country.
The Ababil 2 UAV production plant was inaugurated in the Tajik capital of Dushanbe.
In order to strengthen and develop joint defense and military cooperation between the two countries, the plant was inaugurated in the presence of a group of Iranian and Tajik officials.
Addressing the ceremony, General Baqeri said that the Islamic Republic of Iran, with the efforts of its committed specialists and scientists and by using its internal capacities, has been able to make a significant growth in all military and defense dimensions, specially production of drones.
"Today we are in a position that we can export military equipment to allied and friendly countries in addition to meeting domestic needs in order to increase security and lasting peace," he said.