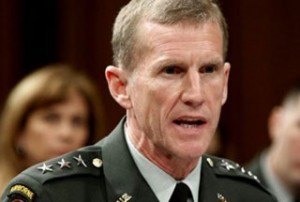 As the US president is doubtful about sending more US troops to war-ravaged Afghanistan, Chief of international forces in the country says if greater numbers of troops are not sent, the mission 'will likely result in failure'.
In a classified assessment of the eight-year war in Afghanistan, US General Stanley McChrystal, on Monday expressed the need for additional troops within the next year or else the conflict "will likely result in failure."
"Failure to gain the initiative and reverse insurgent momentum in the near-term (next 12 months) — while Afghan security capacity matures — risks an outcome where defeating the insurgency is no longer possible," he warned.
The commander added that failure to provide adequate reinforcements "also risks a longer conflict, greater casualties, higher overall costs, and ultimately, a critical loss of political support." He went on to emphasize that any of these risks would likely result in mission failure.
The 66-page report was submitted to Defense Secretary Robert Gates on Aug. 30 and is currently being reviewed by President Barack Obama and his top national security advisers.
Some officials had earlier said that General McChrystal would call for roughly 30,000 more combat troops and trainers.
The serious warning coincides with the US president's skepticism about whether sending more troops will make a difference in Afghanistan where violence has hit a record high eight years after the US-led invasion.
Obama said on Sunday that pursuing the right strategy is more vital to winning the Afghan war than massing more troops.
Currently there about 68,000 US and 33,000 NATO troops in Afghanistan.
The US invaded Afghanistan in 2001 to allegedly destroy insurgency and capture the main militants including Al-Qaeda and Taliban leaders Osama Bin Laden and Molla Omar who are still at large.
The eight-year old conflict has claimed the lives of many Afghan civilians.
According to the United Nations, more than 2,000 Afghan civilians were killed only throughout 2008. NATO, however, claims that 200 civilians were killed by foreign troops last year.