Iran
Top negotiator: US's Old Animosity Preventing West's Dispute Settlement with Iran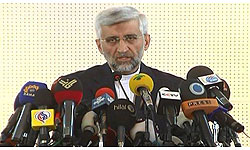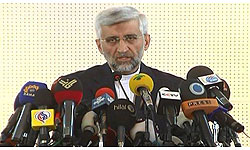 Iran's chief negotiator in talks with the world powers Saeed Jalili reiterated that the United States' decades-long animosity towards Iran has prevented Washington and its western allies from resolving the nuclear standoff with Iran.
"The main difference between Iran and the US is an old one and it dates back to the time when the Iranian nation wanted to be free while Washington wanted to support a dictator (former Shah) who had come to power through a US-assisted coup till the end," Jalili told a press conference in Istanbul on Thursday after talks with EU foreign policy chief Catherine Ashton and in response to an FNA question about the main bone of contention between Iran and the six world powers in their nuclear talks.
"Hence with the fall of the dictator and the emergence of religious populism in Iran, the US started confronting Iran's rights and they did what they had in power (against Iran) and also fully supported another dictator who was Saddam Hussein for eight years in his war on Iran," he added.
Jalili noted the US-led West has imposed economic sanctions against Iran for over 30 years ever since the victory of the Islamic Revolution in Iran, reminding that anti-Iran sanctions are not confined to the present era, "yet the Iranian nation has continued progress irrespective of the sanctions".
"The Iranian nation defends its rights and they become disappointed, and this is their problem," he said.
Jalili said that Iranians not only defend their rights, but are also making considerable progress due to their resistance.
"We have made more progress in areas that they have pressured us," he said, reminding that Iran is now among the only 10 world countries with established nuclear technology capabilities based on indigenous capabilities and capacities.
"As they acknowledge themselves (westerners) their statistical figures show that Iran's scientific growth is 11 times more than the global average," he said.
Jalili and Ashton met in Istanbul yesterday to follow up on the last round of talks between Iran and the Group 5+1 held in Almaty, Kazakhstan, on April 5-6.
Jalili described his last night talks with Ashton (who presides over the world powers' delegations in the talks with Iran) as positive and useful.
"I had fruitful talks with Mrs. Ashton and we agreed to meet in the near future," he said.
Jalili noted that Iran and the International Atomic Energy Agency have also had constructive talks in Vienna in their meeting yesterday.
Last month, Iran and the G5+1 wrapped up two days and four rounds of intensive negotiations in Almaty before the delegations of the world powers demanded further consultations with their capitals.
The Iranian team was led by Jalili and the G5+1's representatives were presided by Ashton.
Iran had announced a day prior to the start of the talks that it would enter the negotiations with the G5+1 with clear, groundbreaking proposals.
Following the Almaty talks, former Iranian Foreign Ministry Spokesman Ramin Mehman-Parast described the meetings with the world powers in Kazakhstan as "positive", and said Tehran is waiting for the opposite side's response to its proposals.
"The two sides' comments described as positive the start of straightforward and serious expression of views, and to take a correct step, our officials expressed their views and the Group 5+1 (the five permanent UN Security Council members plus Germany) should now respond," Mehman-Parast said at a weekly press conference in Tehran.
"We are (now) waiting for Mrs. Ashton's response and her consultations with the G5+1," he added.
Washington and its Western allies accuse Iran of trying to develop nuclear weapons under the cover of a civilian nuclear program, while they have never presented any corroborative evidence to substantiate their allegations. Iran denies the charges and insists that its nuclear program is for peaceful purposes only.
Tehran stresses that the country has always pursued a civilian path to provide power to the growing number of Iranian population, whose fossil fuel would eventually run dry.
Despite the rules enshrined in the Non-Proliferation Treaty (NPT) entitling every member state, including Iran, to the right of uranium enrichment, Tehran is now under four rounds of UN Security Council (UNSC) sanctions and the unilateral western embargos for turning down West's calls to give up its right of uranium enrichment.
Tehran has dismissed West's demands as politically-tainted and illogical, stressing that sanctions and pressures merely consolidate Iranians' national resolve to continue the path.
Tehran has repeatedly said that it considers its nuclear case closed as it has come clean of IAEA's questions and suspicions about its past nuclear activities.