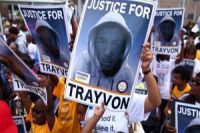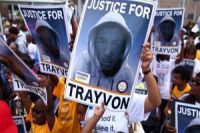 Former US Secretary of State Colin Powell has said the verdict in the trial of George Zimmerman, who was acquitted in killing unarmed African-American teenager Trayvon Martin, is "questionable."
Speaking on CBS News' Face the Nation on Sunday, Powell said the acquittal of Zimmerman might soon be forgotten but President Obama, and all US presidents, have a responsibility to discuss the history of racial injustice in the US.
Powell said, "I think that it will be seen as a questionable judgment on the part of the judicial system down there, but I don't know if it will have staying power. These cases come along and they blaze across the midnight sky and then after a period of time, they're forgotten."
Earlier this year in July, a six-woman jury in Florida issued a verdict, acquitting Zimmerman of second-degree murder and manslaughter in Martin's death.
Following his acquittal, Zimmerman made headlines a couple of times for firearms.
Last month, a gun was found in his car after he was pulled over for speeding in Texas.
Nationwide protests erupted across the US in the wake of Zimmerman's acquittal and many activists called for repealing Stand Your Ground law in US states.