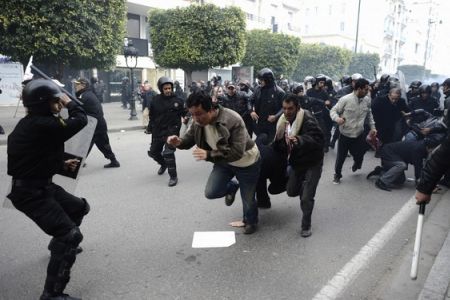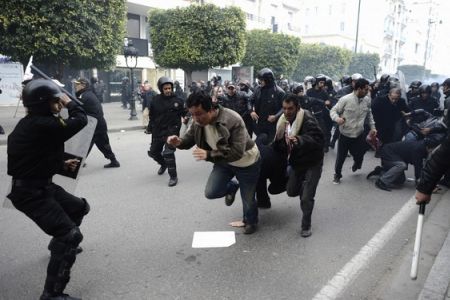 Four ministers have resigned from the new Tunisian government amid widespread public dissatisfaction with the new cabinet line-up.
Three of the four ministers were from Tunisia's main trade union whose decision came after the General Union of Tunisian Workers (UGTT) refused to recognize the country's new leadership.
"We are resigning from the government after a call from our union," said Houssine Dimassi, who had been named minister for training and employment in a transitional unity government.
The unity government was formed on Monday, three days after President Zine El Abidin Ben Ali was ousted from power in a historic revolution.
Ben Ali's 23-year rule ended after weeks of street protests. His era was marred by repeated human rights violations and torture.
Meanwhile, fresh violent protests have erupted in the capital against the new coalition government.
Riot police fired tear gas to disperse the crowd.
The protesters demand that Ben Ali's party give up power.
Prime Minister Mohammed Ghannouchi has defended his new cabinet lineup.
Ghannouchi, as well as foreign, interior and defense ministers are to retain their posts. Only three opposition figures will join them.
The union says the withdrawal is justified by the presence of 12 cabinet members belonging to ousted President Zine el-Abidine ben Ali's ruling party, stressing that the unity government is "a masquerade" still dominated by Ben Ali's supporters.
The opposition Islamic party, an-Nahza, has also boycotted the presidential election due in six months.