Africa
Tunisian civil servants stage strike after govt. refusal to hike wages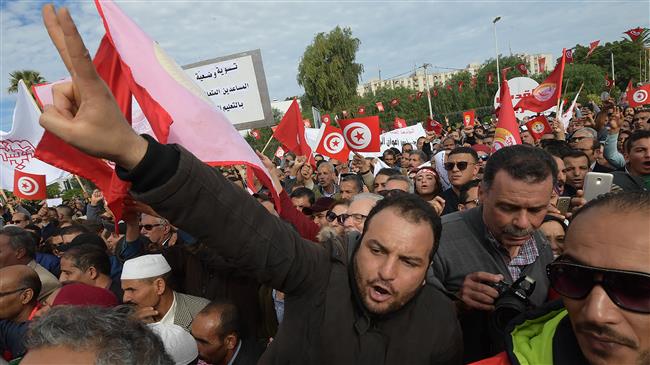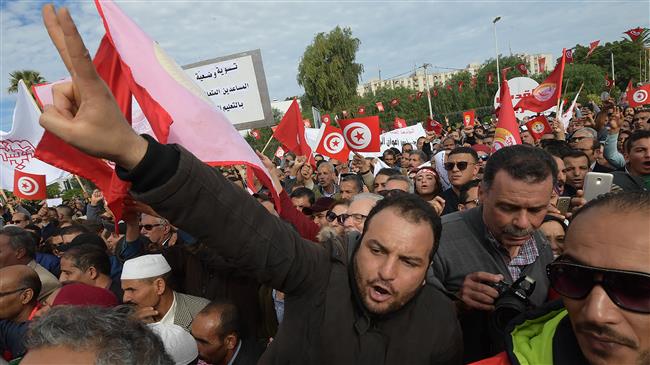 Thousands of Tunisian civil servants have gone on strike and joined protests across the North African country after their powerful trade union failed to secure wage hikes in tense negotiations with the government. 
Schools, universities, municipalities and ministries were shut on Thursday and hospitals had only emergency staffing in the nationwide walkout organized by the Tunisian General Labor Union (UGTT).
More than 3,000 people gathered in front of parliament in the capital Tunis, calling for the government to resign.
The angry protesters held banners and chanted slogans such as "The wage increase is not a favor" and "Tunisia is not for sale." They also employed a popular slogan of the country's 2011 revolution — "work, freedom, national dignity."
"I can't pay for my sons' food and studies out of a 900 dinar ($309) salary," said a teacher named Nafisa, protesting outside parliament.
Massive protest rallies were also held in Sfax, Gabes, Sidi Bouzid and Kasserine.
The UGTT is demanding 673,000 state employees receive salary bumps equal to those granted this year to public companies, which range from $17-34 a month.
Nourredine Taboubi, head of the UGTT, said negotiations had failed because "the sovereign decision is not in the hands of the government, but of the IMF."
"The situation is very dangerous in light of growing inflation and low standard of living … the government will see soon a revolution of hungry and empty bellies," Taboubi added.
International lenders, including International Monetary Fund (IMF), have called on the government to control civil service salaries to avoid pushing up the public deficit.
Bouali Mbarki, UGTT deputy secretary, said the wage increase "had not been taken into account in the 2019 state budget."
The demands for wage hikes are tied to "an unprecedented rise in prices, a deterioration of citizen purchasing power…. and a degradation of daily life," Mbarki noted.
Mbarki went onto say that the government "must find a solution without being subjected to the instructions of the IMF– even if it has made commitments with it — and preserve social stability."
Elsewhere in his remarks, Mbarki said the union was "not negotiating with (head of the IMF) Christine Lagarde) but with the head of the Tunisian government," Tunisian Prime Minister Youssef Chahed.
The government says it does not have the money to pay for the increases strikers want, worth $690 million in total.
"If Chahed was looking for populism or electoral interests, he would have signed for the wage increases, but we want to know who will finance salary increases," Government spokesman Iyad Dahmani said.
He added that international lenders including the IMF had threatened to stop financing Tunisia in the absence of reforms.
Tunisia struck a deal with the IMF in December 2016 for a loan program worth around $2.8 billion to overhaul its ailing economy, but progress has been slow.
The developments come as price hikes, fueled in particular by the fall of the Tunisian dinar, combined with tax increases and stubborn unemployment have spurred social discontent that escalated into riots across several cities in January.
Tunisia's main opposition party on Tuesday called for protests against the "unjust" 2018 budget including price and tax hikes.
In recent months, political life in Tunisia has been paralyzed by power struggles ahead of presidential elections set for 2019.
Tunisia's economy has been in turmoil since autocrat Zine El Abidine Ben Ali was toppled in a 2011 uprising sparked by anger at unemployment and poverty.