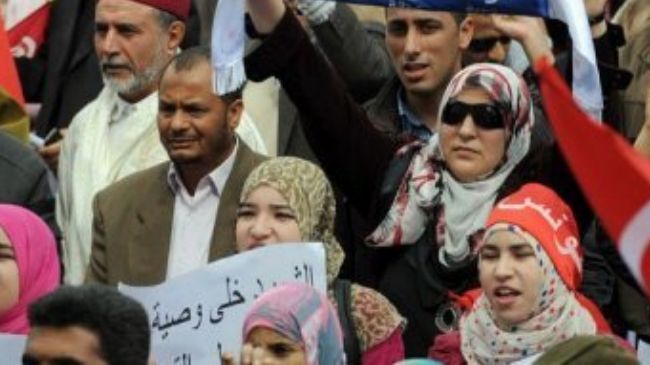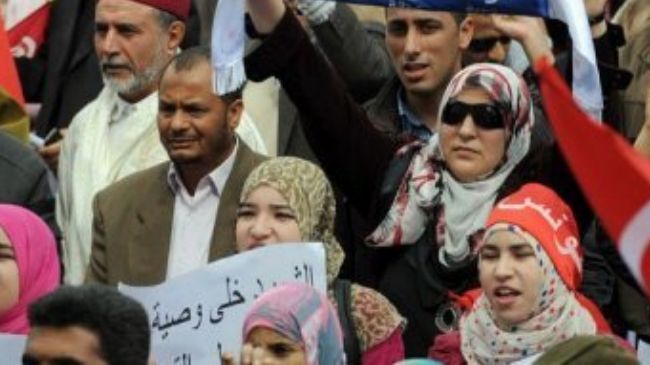 Demonstrators have taken to the streets in the Tunisian capital to mark the massacre of the country's nationalists by French troops in 1938.
Protesters gathered in front of the municipal theater and near the French Embassy in Tunis on Tuesday April 9, named as Martyrs' Day.
They commemorated the Tunisians killed in 1938 massacre and those killed in the country's 2011 revolution that ousted dictator Zine El Abidine Ben Ali.
The demonstrations came amid tight security in the capital, as some 20 people were injured in similar demonstrations last year after clashes broke out between police and protesters.
On April 9, 1938, French troops fired on Tunisia's nationalists protesters who were calling for the country's independence from the French rule. Tunisia's independence was achieved in 1956.
In January 2011, Ben Ali fled Tunisia to Saudi Arabia, after weeks of bloody protests over corruption, unemployment, and high food prices.
Tunisia's first freely elected government was sworn in December 2011, a year after the start of the popular uprising that ended the 23-year authoritarian rule of Ben Ali.