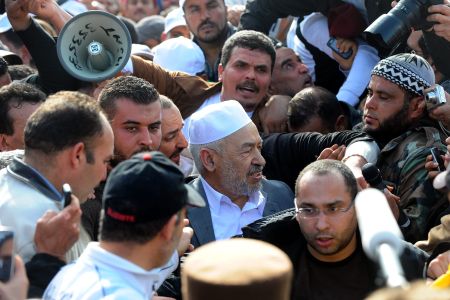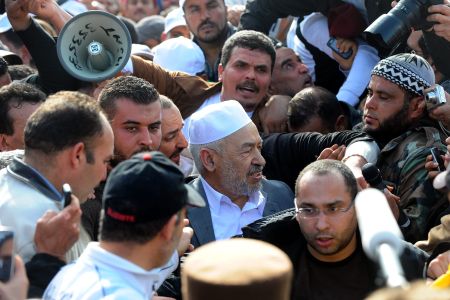 Having returned home after more than 20 years of exile, Tunisia's Islamic opposition leader Rashed Ghannoushi calls on the government to free political prisoners.
"There are political prisoners still in prison who need to be released. There are consultations between the different political forces away from the government which need to take place within the government and with a view to having all these different political forces represented in government," Ghannoushi told Press TV in an exclusive interview on Saturday.
On Sunday, Ghannouchi left London's Gatwick airport at 08:30 GMT to the Tunisian capital, Tunis, following the departure of the ousted Tunisian ruler Zine El Abidin Ben Ali.
Thousands of Tunisians flocked to Tunis airport to give Ghannoushi a hero's welcome.
The head of the En-Nahdha Movement was exiled to Britain in 1989 by former President Zine al-Abdine Ben Ali.
His return comes after Tunisia's interim government issued an amnesty for all the country's banned political activists. The amnesty is yet to be approved by the parliament.
Tunisia's new government installed after the ousted Tunisian ruler Zine El Abidin Ben Ali's fall has unveiled unprecedented democratic freedoms, including lifting media restrictions, releasing political prisoners and registering banned parties.
"There is corruption which needs to be addressed. Of course, with regards to the issue of development, real steps need to be taken to launch development projects in the marginalized areas of Tunisia," he said.
Ghannoushi also said that he does not seek to play a role in the new government.
"We have not sought to play any role in this government. We have not been consulted about the government or its members or its committees. There are worrying indicators that the security services are still very much active," he said.
Ben Ali and his family fled to Saudi Arabia on January 14 after days of street protests put an end to his 23-year rule.
Thousands of protesters have kept up their daily rallies in the streets of the Tunisian capital, Tunis, calling for old regime politicians to be swept from power and for the abolition of Ben Ali's Constitutional Democratic Rally party.