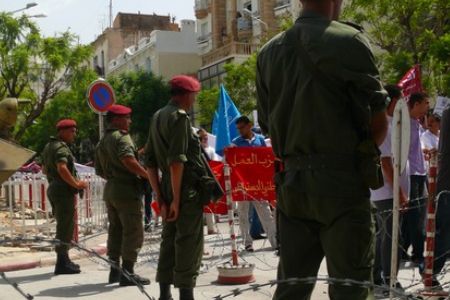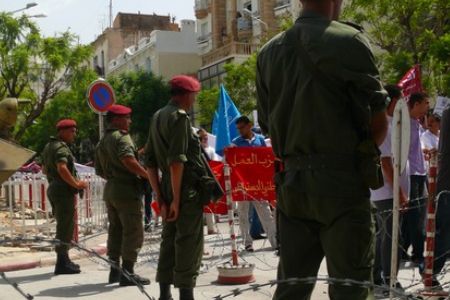 Tunisian demonstrators have held a sit-in in the capital Tunis to call for the dissolution of the country's interim government in the post-revolution North African state.
The demonstrators gathered in the Kasbah mosque near the government seat after the Friday prayers, IRIB reported.
The sit-in was staged while a large number of police forces were stationed in the area to prevent other demonstrators from joining the sit-in.
On July 15, police fired tear gas at protesters who had taken refuge in the mosque.
Some political parties in Tunisia have accused the Islamic Movement, Ennahda, of trying to destabilize the country, a claim that has been rejected by the president of the party, Rashid Ghannoushi.
After the recent violence in Tunisia last week, Prime Minister Beji Caid Essebsi blamed religious groups of rousing unrest in the country, accusing them of trying to derail the upcoming election on October 23.
Ennahda officials once again rejected these accusations, saying they support the election to be held on the stated date.
A 14-year-old boy was killed and two other people were seriously injured during a violent protest in the town of Sidi Bouzid last Monday.
Young people hurled petrol bombs and rocks at police and soldiers. The youth were outraged over high unemployment, corruption and repression, saying little has changed since the outset of protests in December.
The Islamic party has returned to Tunisia's political arena after being banned for many years during the iron-fist reign of former President Zine El Abidine Ben Ali.