Africa
Tunisia's ruling party, opposition start crisis talks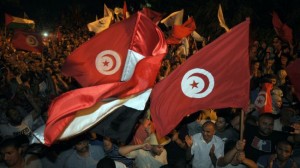 Tunisia's ruling party and the opposition sit for talks on the second day of a national dialogue to resolve a months-old political crisis in the North African country.
The talks began after Prime Minister Ali Larayedh pledged to step down in a last-ditch effort to persuade the opposition to take part in the three-week dialog.
The participants are set to appoint a non-partisan cabinet to run the country till elections.
According to Tunisia's political roadmap, the talks will lead within three weeks to the formation of a new caretaker cabinet.
Mediators and participants hope that a long-awaited national dialog will mark a crucial step in the country's transition to democracy.
"The train out of this crisis is on the tracks, and we are now on the way to finishing our transition to elections," media outlets quoted Tunisia's ruling Ennahda Party's chairman, Rashid al-Ghannushi, as saying.
Tunis has been in turmoil since the assassination of an opposition leader in July which sparked protests across the country.
On Thursday, thousands of opposition activists protested in central Tunis, demanding the resignation of the government before a national dialogue would begin.
Meanwhile, protesters have also set fire to the office of the ruling Ennahda Party in the northwestern town of Kef as the country mourns a number of policemen killed in fighting with extremists.
Witnesses said the walls of the building were burned and the equipment inside it destroyed after protesters stormed the second-floor office.
The office is located close to the home of one of the eight security forces killed on Wednesday in a gunfire exchange with the militants.
Tunisia has seen numerous clashes between the government forces and extremist groups over the past few months. The Ansar al-Sharia group was formed after Tunisia's revolution. The Tunisian government declared the group a terrorist organization two months ago.
Tunisia, the birthplace of pro-democracy protests across North Africa and the Middle East, is struggling with a democratic changeover after the overthrow of its dictator, Zine El Abidine Ben Ali, in 2011.