Africa
Middle East
Turkey
World News
Turkey dispatches over 4,500 allied Takfiri militants from Syria to Libya: SOHR
The so-called Syrian Observatory for Human Rights (SOHR) says Turkey has so far sent more than 4,500 allied Takfiri militants from Syria to Turkey, after the Turkish parliament passed a bill earlier this year that will allow the government to deploy forces to the North African country to intervene in the ongoing war.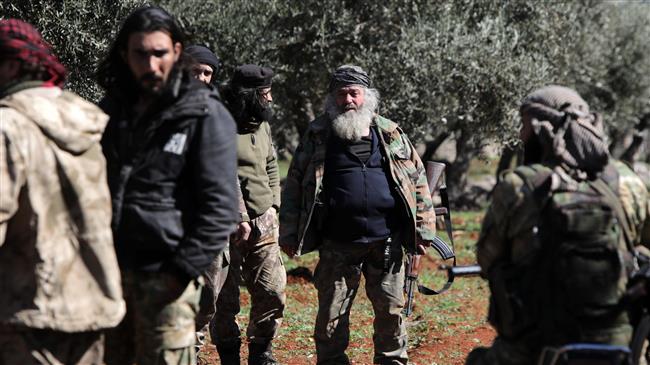 The Britain-based war monitor, citing informed sources requesting anonymity, reported on Saturday that the number of Turkish-backed militants, who have arrived in the Libyan capital city of Tripoli up until now, stands at some 4,750.
The Observatory added that nearly 1,900 Takfiris are currently receiving military training in Turkey in order to be sent to Libya.
Russia says Turkey helping foreign militants enter LibyaRussia says Turkey is helping foreign militants cross into Libya, where rebel forces are attempting to unseat the internationally-recognized government.
The sources further noted that Turkey is recruiting young extremists in the predominantly Kurdish town of Afrin and other Turkish-controlled areas of northern Syria for the purpose, emphasizing that they are members of the Mu'tasim Division, Sultan Murad, Northern Falcons Brigade, al-Hamzat, the Sham Legion, Suleyman Shah and Samarkand Brigade militant groups.
They underlined that 117 Syrian militants, who joined the ranks of Turkey's military operations in Libya, have been killed there.
At least 16 Turkish soldiers killed in fighting in Libya: Haftar forcesForces loyal to Libyan military strongman Khalifa Haftar say they have killed 16 Turkish soldiers in recent weeks amid ongoing violence in the North African country.
The Observatory went on to say that the Takfiris have been killed in clashes in Salah al-Din district south of Tripoli, al-Ramlah area near Tripoli's Mitiga International Airport as well as Hadaba project area in southern Tripoli.
The sources added that some 150 Takfiri militants who were sent to Libya have managed to sneak into Europe.
Libya plunged into chaos in 2011, when a popular uprising and a NATO intervention led to the ouster of long-time dictator Muammar Gaddafi and his execution by unruly fighters.
Libya rebels claim to have 'destroyed' Turkish cargo ship in TripoliArmed rebels in Libya claim they have destroyed a Turkish cargo ship carrying ammunition and weapons at the port of Tripoli.
The North African country has since been split between two rival administrations based in the east and west amid a conflict drawing increasing involvement from foreign powers.
According to the latest UN tally, more than 280 civilians and roughly 2,000 fighters have been killed since Haftar launched his offensive in April to seize Tripoli. An estimated 146,000 Libyans have been displaced.