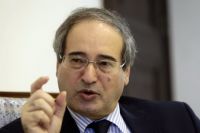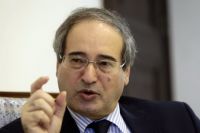 Syria's deputy foreign minister says Turkey is responsible for the acts of terror that the ISIL Takfiri militants commit in Iraq and Syria.
Faisal Miqdad was quoted as saying in an article published on Lebanon's al-Binaa newspaper on Saturday "Turkey is not a part of the solution, but a basic part of the problem".
He added that "The relationship between the Turkish regime and the ISIS (ISIL) terrorists is no longer hidden."
Miqdad also commented on Turkey's failure in a third round of run-off voting for the second of the two Western seats on the UN Security Council.
"Turkey's failure to have support of UN states to gain a non-permanent seat on Security Council last Thursday is a clear expression of the world's rejection of the Turkish policies against Syria and Iraq and its ally with the ISIS terrorist organization."
Turkey has been accused of backing ISIL in Syria. The Turkish government continues to block the supply of military equipment and reinforcements for Kurdish fighters defending Syria's strategic border town of Kobani against the terrorists.
Ankara prevents Turkish Kurds from crossing the border into Kobani to join the Kurds in the battle for the town.