Syria
Turkey, Israel, US, West, Arab Regimes-backed ISIL terrorists kill at least 20 civilians in Syria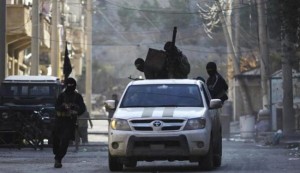 Takfiri militants have killed at least 20 civilians and severely injured several others for supporting a rival group in eastern Syria.
On Friday, militants from the Islamic State of Iraq and the Levant (ISIL) killed the civilians for supporting the so-called Free Syrian Army.
The killings took place in three villages near the eastern city of Deir Ezzor.
Rival militant groups have been lately engaged in fierce fighting. The clashes have mainly taken place between the ISIL and other groups opposed to Damascus.
The infighting has escalated in the past months, amid gains by the Syrian army across the country. In recent months, the Syrian army has managed to liberate a number of cities and towns from militant control.
Clashes between the militant groups still continue despite a recent order by al-Qaeda leader Ayman al-Zawahiri to stop the infighting.
Months of violent conflicts among different armed groups have killed thousands of Takfiri militants in Syria.
On April 11, opposition sources said an outbreak of infighting among extremist groups has left nearly 90 people dead in Deir Ezzor. The clashes pitted the al-Nusra Front against its main rival, the ISIL.
In February, the so-called Syrian Observatory for Human Rights said clashes between militants in the country had left around 3,300 people dead since the beginning of 2014.