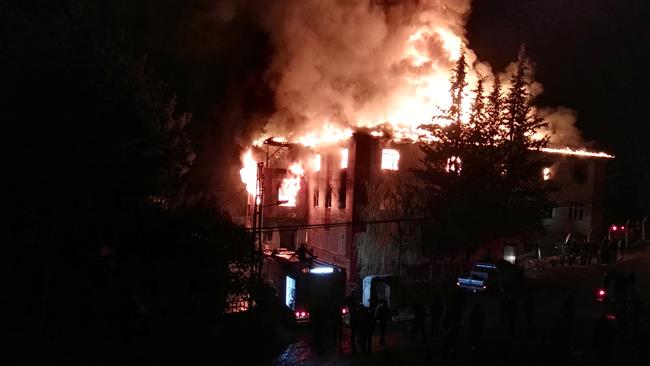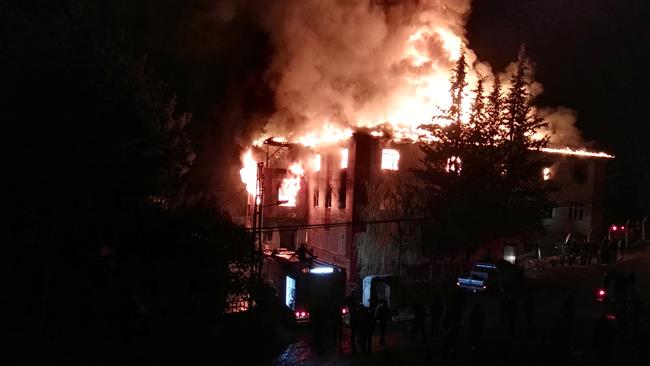 A fire at a girls' dormitory in the Turkish city of Adana has left a dozen people dead and several others injured.
The fire broke out on Tuesday in the southern town of Aladag in a dormitory, housing 34 junior and high school students.
According to officials, the fire was likely caused by an electrical fault and took the lives of 11 schoolgirls and a female caretaker.
The girls' identities are yet to be disclosed; however, they were said to be under the age of 14. Also, 22 more people suffered injuries and were transferred to hospital.
The officials said that the victims lost their lives because firefighters were unable to open the doors in the top floors of the building where the girls were locked in.
Reports say a number of girls were injured as they jumped out of the windows to escape the flames.
The dorm was inhabited by impoverished girls who came from nearby villages where there are no schools.
Teams of firefighters worked to put out the blaze and rescue those trapped inside the multi-story building. But the fire spread swiftly because the building's interior was wooden and the floors were carpeted.
Fires are frequent in Turkey due to outdated and often wooden buildings and faulty electric systems.