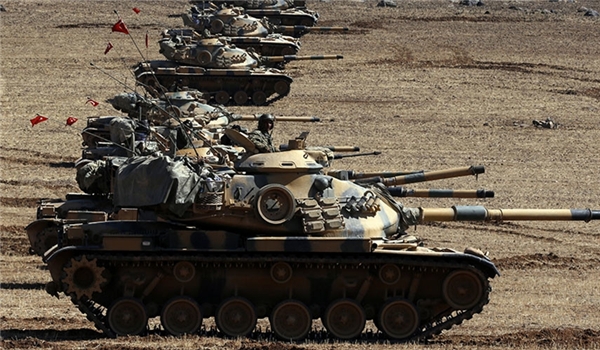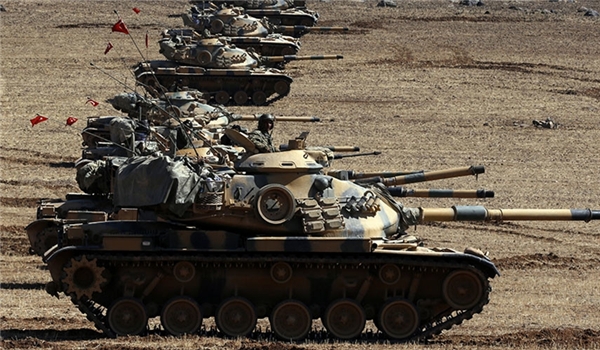 The Turkish army continued pounding the positions of the Kurdish fighters in Northern Aleppo in coordination with the terrorist groups in the region on Sunday.
Several villages in vast areas of Afrin in Northwestern Syria came under artillery shelling by the Turkish army and terrorist groups all throughout Sunday.
The Turkish army, Al-Nusra Front and Ahrar al-Sham pounded the villages of Marimin and Anab in Afrin region on Sunday.
Residents of Marimin and Anab said that their villages were hit with over numerous rockets and 30 artillery shells today.
The artillery shelling of the Kurds in Northern Aleppo comes as the Kurdish fighters, backed by Russian fighter jets, are currently engaged in intense clashes with the terrorist groups at the Western entrance of the strategic town of Tal Rifat town in the Northern part of Aleppo province.
The Turkish army shelled Kurdish People's Protection Units (YPG) positions near the city of Azaz in Northwestern Syria on Saturday too.
Turkish forces have shelling an airbase and a village, recently captured by Kurds, in Aleppo province in Syria on Saturday.
A Kurdish official confirmed that the shelling targeted the Menagh air base located South of Azaz in Aleppo Governorate.
"Turkish forces started shelling People's Protection Units positions on the territory of the Menagh airbase," a YPG spokesperson told the Arabic-language TV channel, Al-Mayadeen.
The Kurdish fighters have made remarkable advances in Tal Rifat and they have already captured many buildings at the Western entrance.
Earlier today, battlefield sources announced that Kurdish fighters were only 100 meters away from Tal Rifat's Western entrance.
"The Kurdish fighters have only one hundred of meters to access the Western gate of Tal Rifat," the sources said.
"A heavy battle is now underway near Tal Rifat and its surroundings," they further added.
"The militant groups have been surprised by the rapid offensive of the Kurdish fighters and have been pinned down behind their defense lines," the sources said.
"The Russian warplanes carried out several combat sorties over the militants' position in the around the town and destroyed their defense lines," they went on to say.