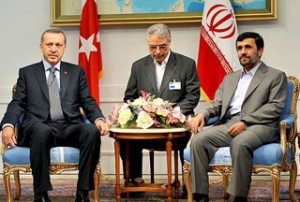 Amid western accusations that Iran is playing a destabilizing role in the Middle East, Turkey's premier says the Tehran government has always contributed to regional peace.
In a Wednesday news conference in Tehran, Prime Minister Recep Tayyip Erdogan spoke up for Iran, saying the country has always contributed to peace in the region.
Erdogan stressed that cordial relations between regional countries are most essential, especially in light of the recent wave of terrorist attacks in the region.
"You see, there is a bomb blast in every corner[of the region] and so many civilians are actually losing their lives," said Erdogan, who arrived in Tehran on Tuesday for talks with high-ranking Iranian officials.
He was referring to a sequence of deadly bomb blasts in Iraq, Afghanistan, and Pakistan, which killed hundreds of civilians over the past few days.
"This shows that the goals set for peace and security in the twenty-first century have not been materialized and the global players have not performed their duties well," he continued.
At such a critical juncture, Erdogan said Iran and Turkey both have a leading role in bringing peace and stability to the region.
On a separate note, the Turkish premier reiterated his support for Iran's right to enrich uranium for peaceful purposes, saying world policymakers have been treating Tehran "unfairly" over its enrichment program.