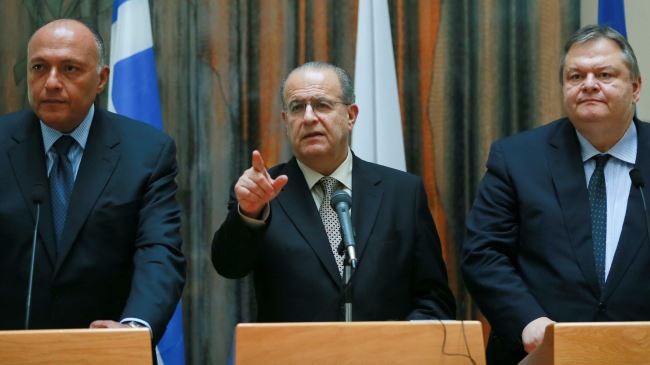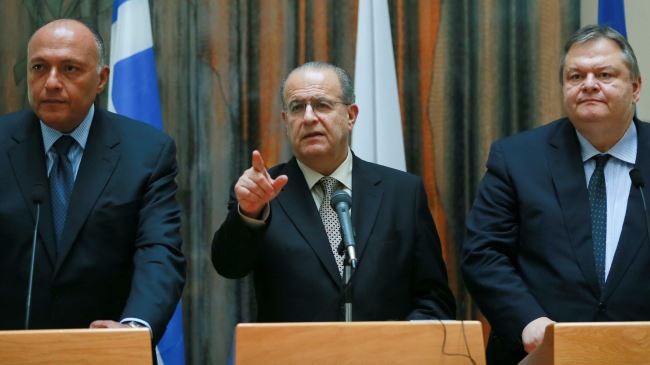 The governments of Cyprus, Egypt, and Greece have called on Turkey to stop gas exploration operations off the southern coast of Cyprus.
During a meeting in the Cypriot capital, Nicosia, on Wednesday, the foreign ministers of the three countries accused Ankara of dispatching a research vessel to collect seismic data in the disputed area, describing the practice as "illegal."
In a joint statement following their meeting, Cyprus' Foreign Minister Ioannis Kasoulides, Egypt's Foreign Minister Sameh Shukri, and Evangelos Venizelos, the Greek foreign minister, called on the Turkish government to "cease all seismic operations within the maritime zones of Cyprus."
The top diplomats also asked Turkey to refrain from similar operations in the future.
Last week, Egypt's energy firm, BG Egypt, announced that it had held talks with Cypriot officials on the potential of Cyprus supplying Egypt with gas.
Egypt has been grappling with a growing energy crisis over the past few years, causing anger among the Egyptians who have blamed successive governments for failing to tackle the problem.
"We are hopeful all activity in the eastern Mediterranean will conform with international regulations," Shukri told reporters after Wednesday's meeting.
The meeting was held amid an ongoing dispute over the right to natural gas in the eastern Mediterranean Sea.
Earlier this month, Turkish vessel, Barbaros, entered the Exclusive Economic Zone (EEZ) of Nicosia to explore oil and gas.
Cyprus said Ankara has violated the country's sovereign rights and threatened to block Turkey's progress in the negotiations for its membership at the European Union.